According to a survey, the e-commerce sector is projected to expand by a staggering 10.4% in 2023, with worldwide sales predicted to reach $6.3 trillion. There has never been a better time to launch your own online business, and that's exactly what we're here to do.
We'll walk you through everything you need to know as a beginner and get your foot through the door; now let's get into it.
Why Learn E-Commerce Online?
The advantages of learning online are numerous: firstly, you can access material anywhere and anytime – perfect for those who want flexibility when it comes to studying. Secondly, there are more options available than ever before; you'll be able to compare top-quality resources side-by-side and pick the best course for you. Finally, you'll be able to obtain qualifications and certifications at a fraction of the cost – perfect for those on a tight budget.
That's why it's effective to learn e-commerce through a screen, and to prove that, you can start with this article. Let's learn a gist of how to start an e-commerce business.
What Is E-commerce?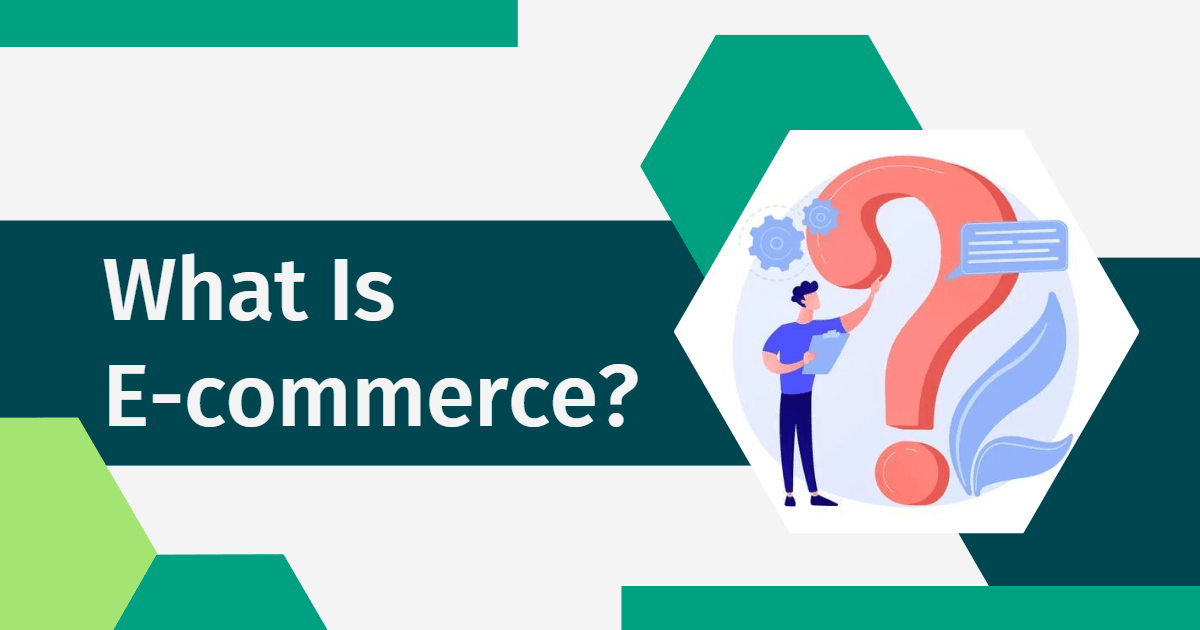 First of all, have you ever purchased or sold something on the internet? That's e-commerce in action. E-commerce, short for electronic commerce, is the simple term for purchasing and reselling goods and services online.
One of the most common types of e-commerce is online retail. Using a website or mobile app, customers may buy whatever they need, including apparel, gadgets, and household items, with only a few clicks. Amazon and Walmart dominate this market by providing a massive assortment of items and quick shipping services.
But it's not just tangible goods that are buzzing transactions here; digital goods including music, software, and e-books are also available for purchase and sale online. Access to a vast collection of digital content that can be purchased and downloaded instantaneously is made possible by platforms like Apple's iTunes store and Google Play store.
If you're looking to start an e-commerce business online, having a strong online presence is essential. One important aspect of your online presence is your website design, and having a talented graphic designer on your team can help ensure your website stands out. If you're in the process of hiring a graphic designer, be sure to check out these helpful Graphic Designer Cover Letter Templates to help you find the right candidate for the job.
Now let's explore the different types of e-commerce.
What Are The Different Types of E-commerce?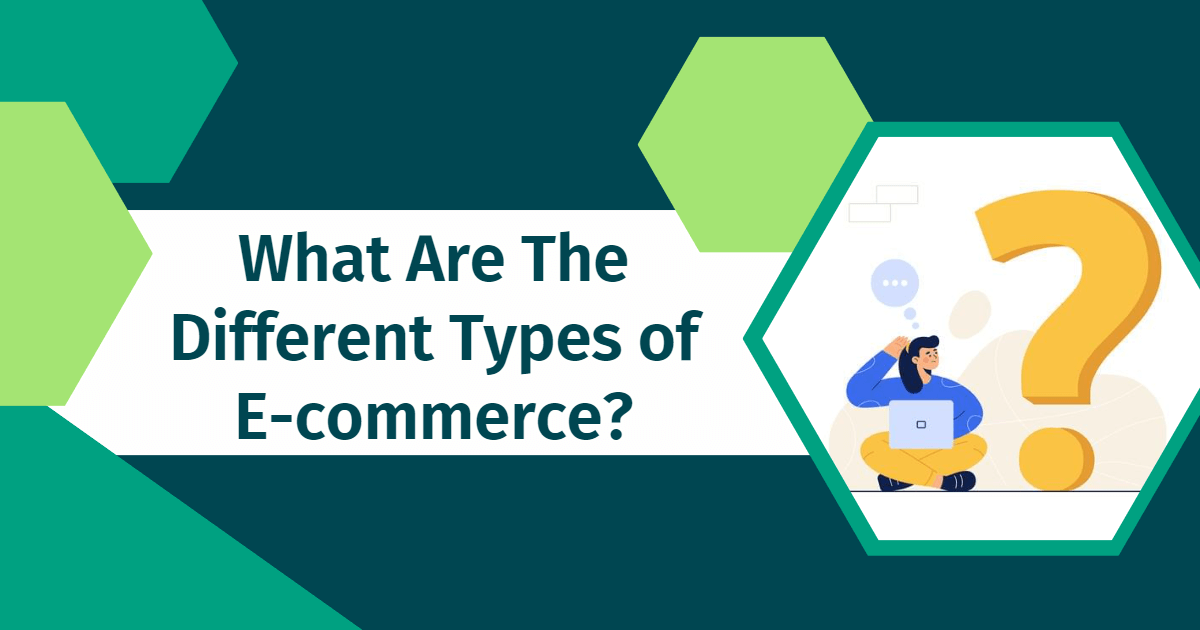 1. Business-to-Consumer (B2C) E-commerce:
In this kind of e-commerce, companies offer goods or services to specific customers directly. The corporation is the vendor, and you are the customer in B2C e-commerce. Amazon and Walmart are fantastic examples of B2C e-commerce platforms where you can buy everything from apparel to gadgets.
2. Consumer-to-consumer (C2C) E-commerce:
C2C e-commerce is the direct sale of goods or services by one person to another without the intervention of a business. With this sort of e-commerce, both sides function as buyers and sellers, giving it a more personal and community-driven experience.
A wonderful example of a C2C platform is a well-known online marketplace like eBay or Etsy, where you may find unique goods offered by other individuals like you. While buying on C2C marketplaces, the options range from handcrafted items to antique apparel.
3. Business-to-Business (B2B) E-commerce
Business-to-Business (B2B) E-commerce focuses only on companies selling goods or services to other companies, such as wholesalers selling to retailers. This is where a manufacturing ecommerce platform can be particularly advantageous, facilitating the direct sale of manufactured goods to other businesses.
Platforms like Alibaba and ThomasNet exemplify B2B solutions that include digital retail solutions, helping companies wishing to expand their reach through digital channels.
4. Consumer-to-Business (C2B) E-commerce:
In C2B e-commerce, customers can sell goods and services to companies. In this case, the corporation plays the role of the buyer and the consumer that of the seller. Freelancers advertising their skills on websites like Upwork are a wonderful example of C2B e-commerce since they provide companies access to a wide pool of talent and knowledge.
These are the primary forms of e-commerce, each having its own set of features and transaction methods. Now that we know what e-commerce is and its different types, let's figure out its general advantages before digging into how to get started.
The Advantages of the E-commerce Industry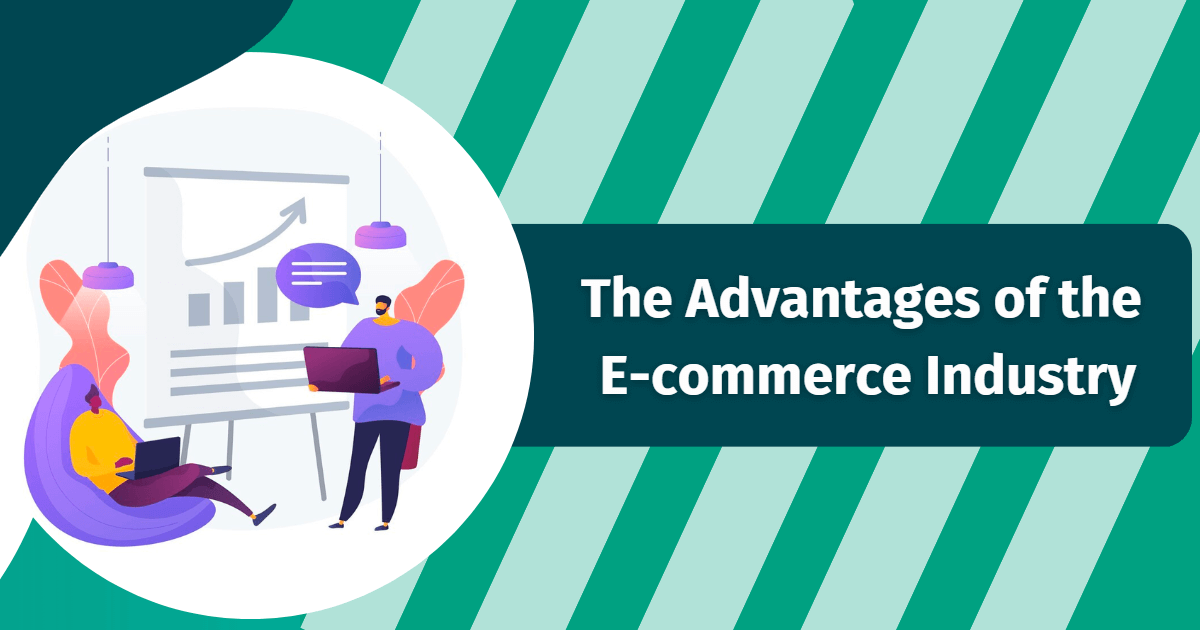 E-commerce has experienced rapid expansion in recent years, becoming a popular option for both customers and businesses. There are a number of benefits to this trend, which have helped it become so widely popular. Let's take a deeper look at some of the most important perks of the e-commerce business.
1. Convenience:
E-commerce is, above all, the most convenient form of shopping for consumers. Consumers may order goods online from the convenience of their homes and have them delivered directly to their doorstep with just a few clicks. This minimizes the need to visit actual stores, saving important time.
2. Access to a Wider Range of Products:
Unique and uncommon goods that might not be found locally are simple to locate for consumers. Millions of items from many countries are available on online marketplaces like Amazon and Alibaba, making it extremely simple for customers to search and buy what they require.
3. Increased Competition and Lower Prices:
The e-commerce business is recognised for its fierce competition, which helps customers by lowering prices. Companies are compelled to lower their pricing in order to remain competitive and boost sales since there are so many enterprises fighting for consumers' attention. As a result, costs for many different goods and services have significantly decreased for consumers.
4. Better Customer Service:
E-commerce companies are renowned for their customer-centric strategies and continuous dedication to giving their clients the finest shopping experience possible. This includes quick shipping, easy returns, and responsive customer care teams who go above and above to help with any questions or problems. By offering a direct line of communication through telephone customer service, you provide an additional channel for customers to reach out and receive personalized assistance, further reinforcing your commitment to exceptional customer service.
Learn more: Ecommerce Customer Service: Ultimate Guide 2023
5. Increased Access to Information:
Customers' feedback and in-depth product information are now readily available, which has had a big influence on internet shopping behavior. It enables buyers to select items that fit their unique demands and lowers the chance of experiencing buyer's regret. E-commerce platforms have ultimately given consumers more power by educating them with the information they need to make informed purchase decisions. So when it comes to B2B transactions, knowing how to select a B2B ecommerce platform where you can the right purchasing decisions is crucial.
6. Increased Reach for Businesses:
E-commerce platforms like Etsy, Shopify, and Amazon have opened up new possibilities for businesses, enabling them to reach a global audience and expand their customer base. You can even ensure your Etsy and Shopify are accessible to people with disabilities. By connecting with clients from all around the world, businesses can boost their sales and enter new markets.
To make the most of e-commerce platforms like Etsy, it's important to understand how to gain insights into customer behavior. Through customer feedback analysis, businesses can make data-driven decisions to improve their products and services.
Find a tutor for this topic
How To Start Your E-commerce business?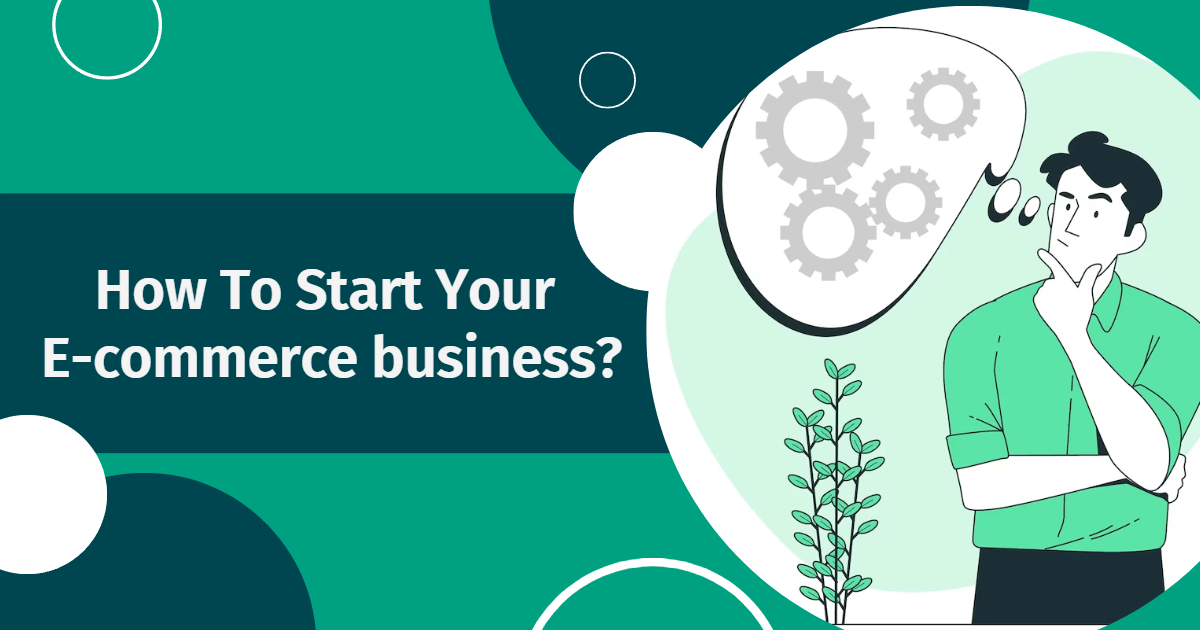 The process of starting an e-commerce company can be challenging and demands careful planning, strategy, and execution. Choosing what to offer, creating an online platform, controlling inventory, and promoting your items to potential buyers are all part of the process. It's simple to get overwhelmed and make mistakes that might hurt your business if you don't have a clear plan in place. So here's a clear guideline for you:
Choosing the products or services that you will provide is one of the most important aspects in setting up an online store. This might be a huge task, but it's necessary to distinguish your company from competitors and attract customers.
Here's a step-by-step guide on how to figure out what to sell for your e-commerce business:
1. Finding out what sets your brand apart from others should be your first step. You must determine what distinguishes you from the competition and what makes your product or service special in comparison to what is already on the market.
2. Explore what's popular on Amazon and other top marketplaces to generate ideas and narrow down the niches to choose from.
3. When exploring potential products or services to sell, market research is a key step in identifying trends and demand. A thorough analysis of competitors can also provide valuable insights into your own business strategy.
4. To decide which product or service you can sell with the most enthusiasm and expertise, consider your talents, hobbies, and experience. For example, if you're into dropshipping, then you might want to check out the trending dropshipping products in 2023.
5. Determine your target audience's demands and pain points, then consider how your products or services might satisfy those requirements. A business that markets commercial intercom systems, for example, should address different customer needs than a shipping and logistics company.
6. Assess your available resources, including your budget and any equipment or tools required to establish your ecommerce business.
Choosing the Right Platform for Your E-commerce Business
A large investment of time, money, and effort is required to launch an e-commerce firm. As a result, selecting the right platform for your business is essential, as it will act as the foundation of your online store. How well you are able to market and sell your goods and services to clients will depend on your e-commerce platform.
Your choice will have an influence on a number of business-related factors, including the look and operation of your website development, order administration, and safe payment processing.
We've created a step-by-step guide to help you with this process:
1. Establish your requirements for an e-commerce platform first. Consider things like website design, functionality, and integrations with other tools and systems that are essential to your organization.
2. Investigate prominent e-commerce platforms and compare their features, cost, and ratings to see which ones will best fit your company's needs.
3. Choose a platform that will expand and scale along with your business. Be sure it offers the capabilities you'll need as your company grows.
4. Think about the platform's level of customer service. Check for email, phone, or live chat assistance to guarantee you can obtain help immediately.
5. Think about the platform's integration possibilities with shipping services, payment gateways, and marketing tools.
Launching Your Website and Setting Up Payment Options
Effective order management and shipping are essential to the success of your e-commerce business. Orders are handled and delivered quickly with a simplified system, maximizing client satisfaction. Below is a step-by-step instruction sheet to get you going:
1. Define your shipping guidelines, including the charges, regions, and delivery schedules. Customers may read about it clearly on your website.
2. Look at prominent shipping companies like FedEx, UPS, and DHL to see whether they meet your demands. While choosing, take into account delivery destinations, delivery speed, and price.
3. Set up order delivery tracking so that clients can easily follow their orders from placing to delivery. And when it comes to finding the right tools for efficient order management and shipping, find your ideal software to streamline your operations even further.
4. Make sure your return policy is well-defined, simple for customers to comprehend, and in line with your company's objectives before posting it online.
Marketing Tips for Successful E-Commerce Businesses
The success of any e-commerce business is mostly dependent on marketing. It enables you to connect with your target market, increase brand recognition, and close sales. Because of this, it's essential to have an organized marketing plan in place from the outset that takes your target market's demands, financial constraints, and broader objectives into consideration.
Here's how you do that:
1. To design a marketing strategy that works, you must fully understand your target market. You must understand who they are, what attracts them, and the best ways to communicate with them. By being aware of these aspects, you may design your campaigns for the greatest possible results.
2. Knowing what works and what doesn't in your business and among your competitors is essential. This sort of knowledge may then be utilized to guide your inbound and outbound marketing strategies, allowing you to build campaigns that will provide the maximum rewards. For example, comparing a range of SEO tools could help you make the most of SEO/SEM metrics provided by tools like Serpstat, SEMrush, Ahrefs, or Moz. This comparison of SEO tools can give you a better understanding of the different features and capabilities of each tool and which one might be best suited to your needs.
3. Your business's visual and emotional manifestation is your brand identity. Build a compelling brand image that matches with and resonates with your target demographic.
4. A strong tool for reaching a broad audience is social media. Create accounts on well-known social media sites like Facebook, Instagram, and Twitter and utilize them to interact with your target market. You may also start a Facebook group to gather a group of individuals who share your interests.
5. Reaching your target audience and promoting your items through email marketing is also a very successful strategy. Make a focused email list and send out updates, offers, and newsletters on a regular basis.
6. Using paid advertising is a terrific strategy to increase your reach and drive visitors to your website, such as Google Ads or Facebook Ads. This may help you promote your company, goods, and services in a very useful way.
7. A good strategy to get people to buy something is to provide promotions and discounts. It also promotes consumer loyalty, which may lead to more regular purchases and higher profits.
Hiring Tips for Growing Your ECommerce Business
For every online business that wants to expand and develop, assembling the proper staff is crucial. The right team can assist you in maximizing the possibilities that lie ahead, enabling your company to grow to new heights and experience long-term success. Hiring individuals who are not a good fit for the role, however, can cripple your company.
Because of this, it's vital to recognize how important it is to hire strategically and to have a plan in place before doing so. This step-by-step guide will guarantee that you make good decisions:
1. It's crucial to first define the positions and tasks that need to be filled in your organization before you start growing your team. After you've identified these jobs, you can write job descriptions for each of them that appropriately reflect their responsibilities. Finding the employees who can carry out the function and contribute to the development of your company will be made simpler as a result.
2. After creating the job descriptions, it's time to choose how to find and recruit qualified applicants. Are you going to use job boards, ask your network for recommendations, or interact with possible candidates on social media? Or maybe a mix of all these techniques? While selecting a method, think about which will produce the best outcomes quickly.
3. After receiving brilliant resumes and cover letters, thoroughly analyze them to identify which applicants best meet your company's demands. In the hiring process, seek for applicants that have the ideal mix of abilities and experience to support your objectives. Remember to evaluate a candidate's personality and team fit as well.
4. In-person or virtual interviews are essential for gaining a deeper understanding of each candidate's experience, talents, and personality. Utilize these interviews to acquire data about their qualifications, but also provide room for them to ask you any questions they may have and to learn more about the position.
5. Make sure your new employee has all the tools and training they need to excel in their position and have a positive contribution in your company. Streamline new hire onboarding process to ensure a seamless integration, enabling your new employee to thrive in their role and make a valuable impact within your organization.
Measuring Metrics and Adjusting Your Strategies as Necessary
To ensure the success of any e-commerce firm, critical indicators must be monitored on a regular basis and plans must be adjusted based on data. Studying key performance indicators (KPIs) may help you obtain insight into areas of your organization that may require development and optimize for growth and profitability.
1. Determine the essential indicators that are critical to your business, such as website traffic, conversion rates, customer lifetime value, and others.
2. Select tools that may help you measure and evaluate your KPIs, such as Google Analytics, Mixpanel, and others.
3. Start gathering data on your KPIs, and make sure you know exactly what the data means.
4. Review and evaluate your KPIs often to spot trends, patterns, and opportunities for development.
5. Adjust your system to improve performance based on your data analysis. This can include changing your marketing strategy, improving your website, and other things.
6. Make further modifications as necessary by regularly monitoring and evaluating your KPIs to make sure your plans are effective.
The Top Ten Free Tools For E-commerce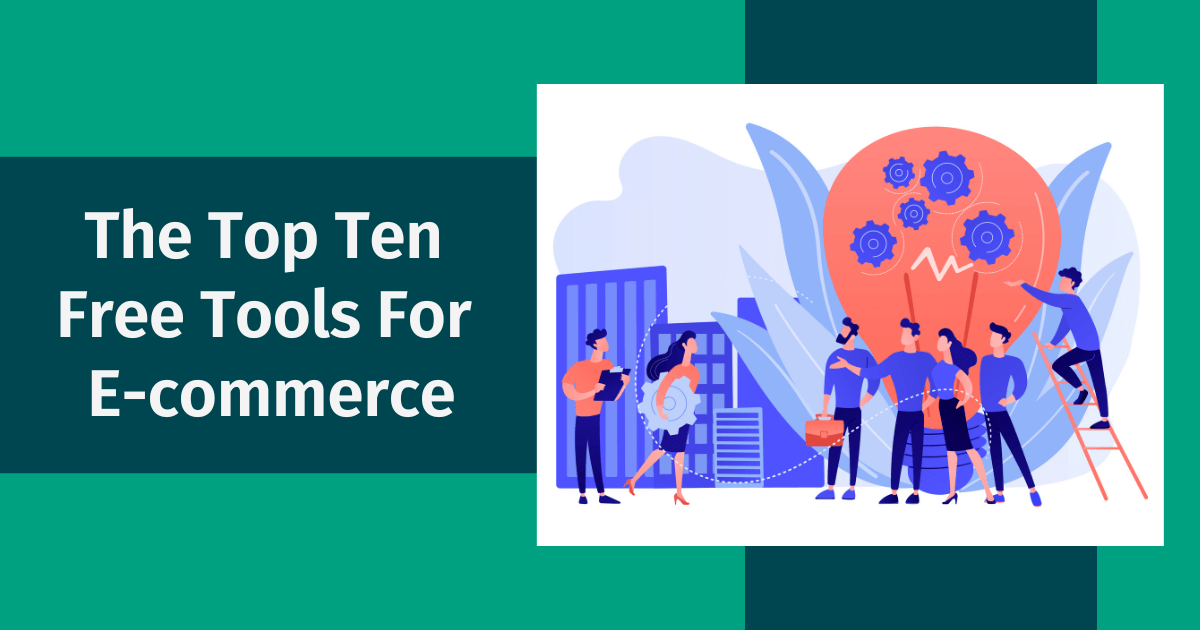 Businesses must be innovative and adaptable to survive in the fiercely competitive and dynamic e-commerce sector. There are several free technologies available that may have a big influence on businesses' online operations to assist them achieve this. The top 10 free e-commerce tools are listed below:
1. Google Analytics:
"Google Analytics has been a game changer for our online store. It's easy to use and helps us track website traffic, conversions, and overall performance. Highly recommended!" - By Manoj One, from Blogging Triggers.
Google Analytics is a free web analytics tool offered by Google that tracks and reports website traffic. This tool provides valuable insights into your website's performance, including the number of visitors, traffic sources, user behavior, and conversion rates.
Benefits of using Google Analytics:
1. Google Analytics gives demographic information about your visitors, such as age, gender, geography, and hobbies, to assist you in tailoring your marketing activities.
2. Google Analytics measures important indicators like bounce rate, average time on site, and pages per session, providing you a better insight of the success of your website.
3. It also enables you to monitor the success of your marketing activities, including sponsored search and social media advertising.
Step-by-step guide:
1. Create a free Google Analytics account and connect it to your website.
2. Insert the Google Analytics tracking code into your website.
3. Identify the main metrics that you want to monitor, such as conversions and sales.
4. Begin collecting and analyzing data from your website using the Google Analytics interface.
5. Utilize Google Analytics information to improve the performance of your website and marketing tactics.
Learn more: The 7 Best Website Analytics Tools For 2023
2. Canva:
Canva is a graphic design platform that allows users to create and edit graphic designs, such as presentations, social media graphics, and other visual content.
Benefits of using Canva:
1. Canva's drag-and-drop interface allows users to create professional-looking graphics without any prior design knowledge.
2. Canva has a large library of templates and elements that users can quickly edit to meet their own needs.
3. Canva provides both free and paid plans, making it an affordable solution for small businesses and individuals that want graphic design services.
Step-by-step guide:
1. Visit the Canva website to sign up for a free Canva account.
2. Choose a design type from the drop-down menu, such as a presentation, social media graphic, or poster.
3. Add text, graphics, and photographs to the template using the drag-and-drop interface.
4. After you're finished, you can download or share your design right from Canva.
3. Hootsuite:
Hootsuite is a powerful social media management tool that can help businesses streamline their social media efforts and save time. It allows users to schedule, publish, and monitor social media activity from a single platform.
Benefits of using Hootsuite:
1. Schedule and publish posts in advance for multiple social media platforms.
2. Monitor social media activity and track mentions, hashtags, and keywords.
3. Analyze social media performance with built-in reporting tools.
4. Collaborate with team members by assigning tasks and managing approvals.
Step-by-Step Guide:
1. Sign up for a Hootsuite account.
2. Connect your social media accounts.
3. Create a publishing schedule and add content to your queue.
4. Use the Hootsuite Streams to monitor your social media activity and engage with your followers.
4. Mailchimp:
Mailchimp is a popular email marketing tool for e-commerce businesses. It allows you to create and send professional-looking emails to your customers, helping you stay in touch and build relationships with them.
Benefits of using Mailchimp:
1. Easy to use and navigate, making it accessible to all levels of users.
2. Save time and effort by automating email campaigns and follow-up sequences.
3. Track email performance and gain insights into customer engagement and behavior.
Step-by-Step Guide:
1. Sign up for a Mailchimp account.
2. Create and manage your email list, including subscribers, segments, and groups.
3. Use the drag-and-drop email builder to design and create your emails.
4. Set up and launch automated email campaigns, such as welcome emails, abandoned cart reminders, and more.
5. Monitor email performance using Mailchimp's reporting and analysis tools to track opens, clicks, and conversions.
5. Yoast SEO:
Yoast SEO is a popular search engine optimization tool for WordPress websites. It helps website owners and content creators optimize their pages for search engines to improve their visibility and rankings.
Benefits of Yoast SEO:
1. Yoast SEO has a straightforward setup process and provides a user-friendly interface for optimizing pages and posts.
2. Yoast SEO analyzes the content on a page and provides suggestions for improving it, such as optimizing meta descriptions and keywords.
3. Yoast SEO offers a range of technical SEO features, such as XML sitemap creation, robots.txt and .htaccess editing, and canonical URL configuration.
Step-by-Step Guide:
1. Install the Yoast SEO plugin on your WordPress website.
2. Set up the Yoast SEO plugin by following the prompts.
3. Optimize your pages and posts using the on-page analysis feature.
4. Use the technical SEO features to improve your website's overall search engine optimization.
5. Check the readability of your content and make improvements as suggested by Yoast SEO.
6. Shopify:
Shopify is a leading e-commerce platform that allows businesses to create and manage online stores. It provides a comprehensive set of tools to help companies to create an engaging website, manage products, process payments, and fulfill orders.
Benefits of using Shopify:
1. Shopify is user-friendly and requires no technical expertise to set up and run a store.
2. Choose from hundreds of professional-looking templates and customize them to match your brand.
3. 24/7 support via phone, email, and live chat to help businesses with any questions or issues.
Step-by-Step Guide:
1. Sign up for a Shopify account.
2. Choose a template for your website.
3. Customize your website with your brand colors, fonts, and images.
4. Add products and their details, including pictures and descriptions.
5. Set up payment options and shipping methods.
7. Bitly:
Bitly is a consequential URL shortening and tracking tool that allows you to easily shorten, share, and track the performance of your links. With Bitly, you can gain valuable insights into your audience, see how your links perform and optimize your marketing efforts for maximum impact.
Benefits of using Bitly:
1. Customizable link branding with a custom domain.
2. Advanced link trackers and analytics.
3. Integration with a variety of social media, marketing, and analytics tools.
4. Easy-to-use interface and real-time data.
Step-by-Step Guide:
1. Sign up for a Bitly account.
2. Shorten your long links using Bitly's link shortener.
3. Share your Bitly links on your social media channels and website.
4. Use Bitly's analytics to track link clicks and performance and to optimize your marketing efforts.
8. Google Trends:
Google Trends is a free tool provided by Google that provides insights into popular search terms, topics, and keywords. The tool allows users to monitor search volume changes over time and compare the popularity of different search terms.
Benefits of using Google Trends:
1. It helps in identifying popular topics and trends relevant to your business or industry.
2. It gives a better understanding of consumer behavior and helps in making informed marketing decisions.
3. Helps in tracking the success of campaigns and adjusting strategies accordingly.
Step-by-Step Guide to Using Google Trends:
1. Go to Google Trends website (trends.google.com).
2. Enter the keyword or topic you want to research.
3. Select the date range and location to see the trend data.
4. Analyze the trend data to understand the popularity and seasonality of the keyword or topic.
Additionally, you can incorporate the Google Trends API into your applications or services, you can automate the process of gathering and analyzing search trend data, making it easier to stay on top of market trends and consumer interests.
9. IPWhois:
IPWhois is a tool that allows you to retrieve information about the owner of an IP address. It provides location, organization, and network information associated with an IP address.
Benefits of IPWhois
1. IPWhois can help you determine the geographic location of an IP address, which can help target specific geographic regions with your online marketing efforts.
2. IPWhois can monitor changes in network information, such as changes in ownership or network size, helping you stay on top of network developments and trends.
Step-by-Step Guide:
1. Go to an IPWhois tool website, such as Whois.net or IP-Address.org.
2. Enter the IP address you want to look up in the search bar.
3. Review the information provided, including details such as the owner of the IP address, the location, and network information associated with the IP.
10. Dotdigital:
Dotdigital is a cloud-based omnichannel marketing automation platform that offers a comprehensive suite of tools to help e-commerce businesses grow and engage with their customers.
Benefits of using Dotdigital:
1. Dotdigital has a user-friendly interface that allows businesses of all sizes to create and execute effective marketing campaigns.
2. With robust data analytics tools, businesses can measure and analyze the success of their marketing campaigns and make data-driven decisions to improve their results.
Step-by-Step Guide:
1. Sign up for a Dotdigital account.
2. Connect your e-commerce platform to Dotdigital.
3. Set up your contact database and segment your audience.
4. Create and send your first marketing campaign.
5. Analyze and track the performance of your campaigns to make data-driven improvements.
The Top Ten Paid Services For E-commerce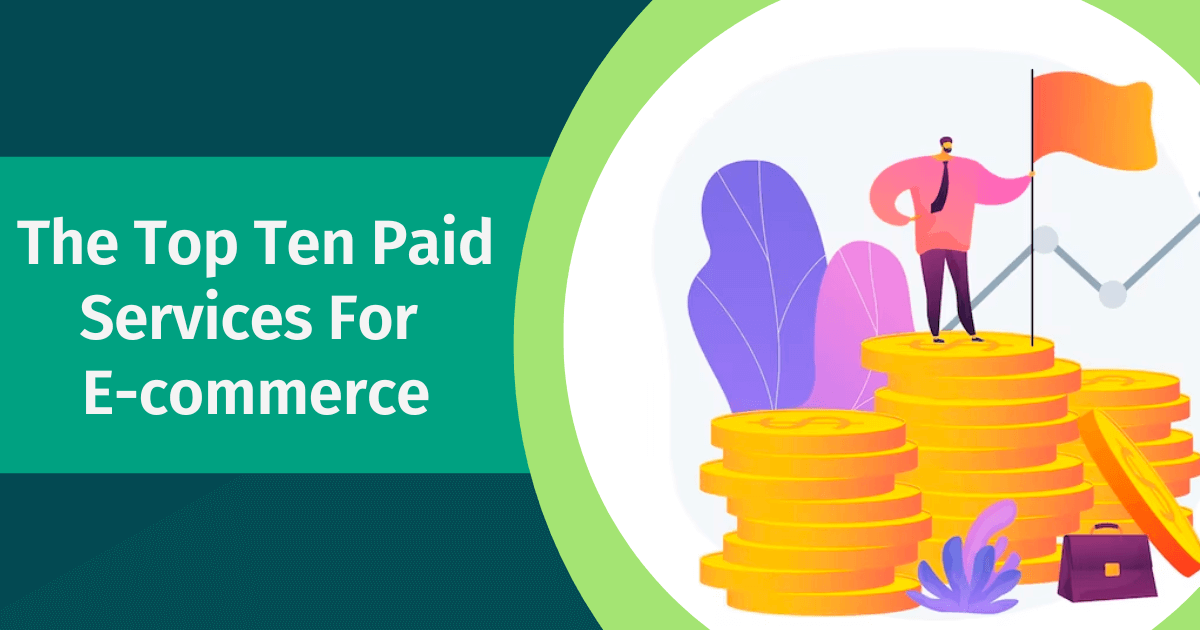 These ten paid services for e-commerce each bring something unique to the table, whether it's enterprise-level features or an all-in-one solution. Let's take a look at them:
1. Shopify Plus:
This is a scalable, enterprise-level e-commerce platform with advanced features and customer service. It offers a range of tools and services for companies wishing to expand and develop their online presence. Shopify Plus allows businesses to leverage specialized support, bespoke checkout, and numerous sales channels.
2. BigCommerce:
An all-in-one e-commerce system with a large app store and built-in SEO capabilities. It offers businesses a simple platform for managing their online store. It provides a variety of personalization choices to help businesses stand out. Companies can use BigCommerce to benefit from comprehensive analytics, reporting, and integrated payment and shipping options. Additionally, by embracing the concept of headless BigCommerce, businesses can unlock advanced customization potential to create truly unique and tailored online experiences.
3. Magento:
An open-source, highly configurable e-commerce platform with a variety of enterprise-level capabilities. Businesses can use Magento to leverage from a versatile and scalable platform that is adapted to their specific requirements. Magento offers a robust and adaptable option for businesses looking to expand their online presence, from personalizing the customer experience to connecting with other tools and systems.
4. Salesforce Commerce Cloud:
Salesforce Commerce Cloud is a cloud-based e-commerce platform that gives businesses the tools they need to build and run an online store. Businesses can use Commerce Cloud to create their online store, handle orders and inventory, process payments, and personalize customer experiences.
To establish a distinctive storefront that supports their brand, businesses may select from a range of layouts and themes. Custom development is also supported on the platform, allowing businesses to create unique features and integrations.
5. Volusion:
A user-friendly e-commerce platform with several features for enterprises of all sizes. Businesses can use Volusion to benefit from a platform with an easy-to-use interface, flexible product and delivery choices, and integrated payment methods.
6. 3dcart:
3dcart is a cloud-based e-commerce platform that provides businesses with everything they want to create and run an online store. The platform is simple to use, with a drag-and-drop interface that enables businesses to design a one-of-a-kind storefront without any technological skills.
3dcart offers a variety of capabilities for businesses, including product administration, order processing, payment processing, and marketing tools. The software also integrates with over 100 payment gateways and shipping providers, allowing businesses to easily manage their sales and delivery procedures.
7. WooCommerce:
WooCommerce provides several customization possibilities, such as customized themes, extensions, and plugins. Businesses can customize the platform to match their individual needs, allowing them to establish a distinctive storefront that resonates with their brand.
WooCommerce offers a complete product management system that allows businesses to simply add and manage their items. Variable products, digital products, and even subscription-based products are supported by the platform.
8. Klaviyo:
Klaviyo offers a number of capabilities for businesses including configurable email templates, segmentation tools, and campaign statistics. Moreover, the platform integrates with a number of e-commerce platforms, including Shopify, Magento, and WooCommerce.
The customized marketing capabilities of Klaviyo help businesses in increasing engagement, building client loyalty, and eventually driving sales. Klaviyo is an excellent alternative for businesses wishing to take their e-commerce marketing to the next level.
9. Recharge:
A subscription management software that simplifies the handling of recurring payments. Businesses can use Recharge to benefit from a platform that offers an easy-to-use interface for managing and automating frequent payments, as well as extensive analytics and reporting features.
10. SendOwl:
SendOwl automates the distribution process for digital products, guaranteeing that customers receive their products as soon as they make a purchase. The technology also allows businesses to create unique delivery emails and limit the number of downloads per purchase.
SendOwl integrates with a number of marketing platforms, including Mailchimp, ConvertKit, and Drip. This enables organizations to conduct tailored marketing efforts and track client behavior.
Frequently Asked Questions (FAQs)
What are the benefits of using an e-commerce platform?
An e-commerce platform can help businesses streamline their sales process, reach a larger audience, and grow revenue. It also provides features such as restaurant inventory management, marketing automation, and customer relationship management.
What factors should I consider when choosing an e-commerce platform?
When selecting an e-commerce platform, consider factors such as ease of use, scalability, customization options, payment processing options, integrations with other tools, and customer support. It's essential to choose a platform that meets your business's specific needs and goals.
Is it necessary to have technical skills to use an e-commerce platform?
It depends on the forum. Some e-commerce platforms have user-friendly interfaces and don't require specialized skills. In contrast, others may require some technical knowledge. It's essential to choose a platform that matches your level of technical expertise.
What are some popular e-commerce platforms?
Some popular e-commerce platforms include Shopify, Magento, WooCommerce, BigCommerce, Volusion, and 3dcart. Each forum has its unique features and benefits, so it's essential to research and compare different options before making a decision.
Conclusion

If you found this blog informative and helpful in understanding the e-commerce industry, we encourage you to share it with others who may also benefit from the information. Help spread the knowledge and support the growth of the e-commerce industry by sharing this blog with your network too!