You may be asking yourself, "What is ribbon yarn?". Well, knitters have started incorporating different kinds of yarn to add a unique touch to their projects. Yarns are now combined with unusual features, including various textures, fibres, and more. These yarns are known as Novelty yarns.
Ribbon yarn is a type of novelty that has gained popularity among knitters in the last few years. As the name suggests, the yarn is flat and looks precisely like a craft ribbon. These threads are made exclusively for knitting and crocheting. Ribbon yarns can be pure cotton, silk, rayon, nylon, or other synthetic fibres.
You'll also find tubular ribbon yarns, nowadays, made for knitting bags or hats. They come in a wide range of colors, from teal blue to peach pink.
Ribbon yarn was first introduced in the early 2000s and is not as popular as conventional fibres. Hence, they are sold in lower quantities, around 100 yards per ball. They are, therefore, not widely available in the market either.
Here we will talk more about what ribbon yarn is and where it can be used.
Answering the Question: What is Ribbon Yarn?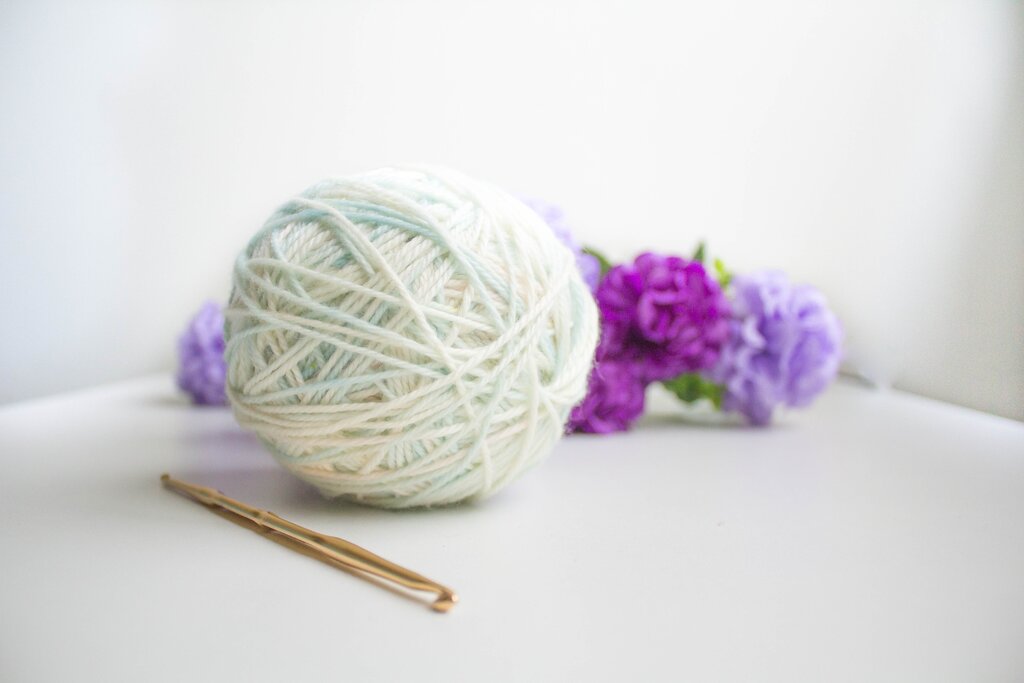 Knitting with ribbon yarn can be a little challenging. Unlike cotton yarns, ribbons don't tend to slip, but they twist in different directions while you are knitting. You need to be attentive while knitting with this yarn. Once you understand what ribbon yarn is, it will be easier to knit with this thread.
While some people don't mind the twisting and can thread them into the design, other knitters find it challenging. If you're a perfectionist, knitting with this type of yarn can require more time and effort.
An essential aspect of knowing what ribbon yarn is related to understanding that you should never use it for delicate and intricate patterns. The resulting knit could be a bit uneven and would seldom showcase complex stitch work successfully.
Even though this yarn is relatively lightweight and might seem similar to wool or cotton fibre, they are poles apart. You don't want a jacket or a sweater made out of ribbon yard. The knots and stitches make the overall garment heavier and difficult to carry.
When knitting with the ribbon yarn, you should always use 8mm metal needles with at least a 5mm hook. Make sure that you don't pull your thread too tightly when you are knitting. Otherwise, it will result in unwanted tension and twist in some cases.
With this yarn, you should always try knitting bulkier patterns like a sling bag. It would be much easier to knit your pattern this way, and the result would be flawless.
To learn more about what ribbon yarn is and how to knit perfectly with the fibre, you can connect with the experts at Lrnkey.
Find a tutor for this topic
How
to

Knit

with

Ribbon

Yarn

By now, you have a pretty good understanding of what ribbon yarn is. Let's move forward and discuss the osing the Correct Stitchof knitting with this type of thread.

Working with this yarn is quite a new experience. It is a little different from regular cotton and wool yarns. It is flatter, and you would need to analyze the number and size of stitches you need before starting your project. You should always try making a small sample to get a rough idea about your project.

Here's what you should do before you start knitting with ribbon yarn.
To create a sample for your project, cast around 20 stitches onto your needle. It would be ideal for knitting around 30 rows in the same pattern you want to use for your project.
Once your sample is knitted, wet the piece to block it, and roll it in a small towel. Then allow it to dry.
Blocking the sample will allow you to get an accurate stitch count. It will help you tally the number of stitches you need to complete your project.
Once the sample has dried, use a ruler to count the number of stitches per inch.
If you want to knit a warm garment, add a heavier yarn to your ribbon yarn. It would also help to shape your garment, giving it a proper structure.
Tips for Knitting with a Ribbon Yarn
Once you understand the characteristics of ribbon yarn, you can use it to create some beautiful patterns. However, there are a few things you need to keep in mind while knitting with this yarn.
Prevent Twisting of Yarn
Correct Needle Size
Choosing the Correct Stitch
1. Prevent Twisting of Yarn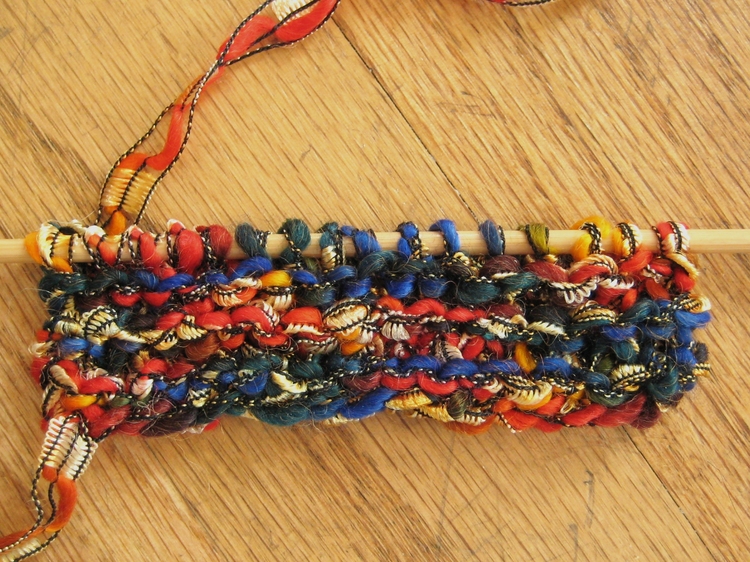 One of the drawbacks of this type of thread is the unwanted twisting while knitting. You need to make sure that your ribbon is flattened out before you wrap it around your needle. One way to prevent twisting is to hold your knit up by the skein and allow the ribbon to untwist itself.
2. Correct Needle Size
Once you know what ribbon yarn is, you need to properly execute your knitting technique. Choosing the correct needle size is essential. More prominent and bulkier needles can create large stitches and help to lay out your yarn correctly. On the other hand, tiny needles can ruin the overall look of the knit.
3. Choosing the Correct Stitch
Choosing the appropriate stitch for your yarn is also necessary. A drop stitch is the best knitting technique to showcase the beautiful ribbon you have chosen.
For the drop stitch, you need to knit a few rows normally. You must then wrap your thread once or twice around the needle between every stitch throughout the next row.
Let the looped yarn drop while you are working the return row. This is one of the fastest ways to work with this yarn. Once you understand what ribbon yarn is and its properties, you can easily create a knitted item using a drop stitch.
Best Projects for Ribbon Yarn
There are a wide variety of patterns that you can try for different ribbon yarn projects. While some garments might not be the perfect choice for this type of yarn, several projects will fit the bill.
Here are a few projects to try on with your colorful ribbon yarn:
Scarves
A scarf would be the perfect choice for your ribbon yarn knitting project. Here you should be able to work efficiently with this yarn without worrying about twisting the threads. A ribbon yarn drop stitch pattern would work well for your scarf. And you could even make a lacy or frilly pattern that would be perfect for spring.
Hats
Since you're aware of what ribbon yarn is, you'll know that this flat thread could be used to make trendy bucket hats. However, you'd need to make sure that the thread doesn't twist while stitching. Twisted yarn can ruin the overall shape of your bucket hat. When knitted with care, these hats can be the perfect addition to your spring collection.
Tote Bags
Ribbon yarn could be used to create tote bags, handbags, or sling bags. The drop stitch on these yarns would work perfectly for your bags. However, make sure you use a large needle to knit your project. This would result in neater, bigger stitches, ideal for any tote bag.
Ponchos
We have already discussed what ribbon yarn is and how it could be challenging to make garments using it. However, if you mix wool with the ribbon thread, you can create warm and trendy outerwear such as a poncho. The bigger stitches of this yarn would be the perfect option for a poncho. A ribbon/woollen knitted poncho makes for a fantastic addition to your winter collection.
To learn more about what ribbon yarn is and the projects it can be blended with, you can talk to some of our experienced knitters on Lrnkey.
Final Words on What Ribbon Yarn Is
Ribbon yarns can be a little challenging to get used to. A great deal of time and attention to detail is required to get the stitch right when using this thread. However, once you have completed your first ribbon yarn project, you'll fall in love with the result. A knit with this yarn feels soft, and the large stitches make it look fashionable.
Through this article, you should have a brief idea about the features of this yarn. You should now understand what ribbon yarn is, how to knit with it, and what projects would be best suited for it.