Whether you're looking to learn a new language, pick up a new hobby, or hone your entrepreneurial skills, there's no better way to engage in online learning than through an online platform. Even before the global pandemic, the spread of online learning platforms multiplied. These platforms can be an excellent option for students of all ages and at any point in an adult career.
At the same time, if you're eager to jumpstart your education but aren't sure where to begin, have no fear. We have compiled an excellent list of the best online learning platforms available in 2022 and beyond. Each one offers different advantages for you to learn new skills or become a tutor to help others with their educational journey. Let's get started.
What is an Online Learning Platform?
Online learning platforms are websites that offer online courses. They can be free or paid, for-profit or non-profit, and designed for individuals or organizations. Most offer recorded video sessions with accompanying instructional booklets. Others are live, in-session classes taught in a group or one-on-one settings.
The goal is to have a centralized learning space for students to pick up all the resources necessary to learn online. Many High School and younger students use online learning platforms to supplement their in-person, at-school education. Numerous adults are upskilling their career opportunities by using online courses to learn to code, develop management experience, and other talents that will end in a better paycheck.
With online learning platforms, you can learn practically any skill from anywhere in the world. All you need is a network connection, a bit of patience, and the willingness to learn.
What Types of Learning Platforms are Currently Available?
Just as there are endless learning styles for students across the globe, so are there online learning platforms. It has never been easier to find one-on-one coding tutors or develop high-income skills than now. The same is true if you want to be a freelancer and teach online.
There are many different types of learning platforms available today, but they can be categorized into separate groups:
Video-Based Learning: Video is excellent because it provides you with valuable information that is consistent and often well-edited to deliver the most critical points. It takes very little to get started, and you do not need to follow a schedule as everything can be done independently. The downside is you cannot ask your instructor questions when you hit roadblocks.
One-on-One Platform: Here, online tutors guide you through different lessons at speeds customized to your learning style. You get a ton of individualized attention, including having your questions answered whenever they pop up. You do have to find a time that works for you and the tutor, but that is the benefit of working with an international platform like Lrnkey.
Group Learning: With this online learning platform, you still get more of your questions answered, but you are in a group, so the individual customization could be lost to other students.
Massive Open Online Courses (MOOCs): These have increased in popularity because they often partner with leading universities and colleges. You get a self-paced format where you can review pre-recorded videos and webinars, but you do not get the individualized attention or questions and answer sessions you would with one-on-one instruction.
What are the Benefits of Online Learning Platforms?
Online learning platforms offer a world of knowledge and creative skills for anyone to learn from anywhere. The benefits of having this kind of access are:
Ability to upskill or reskill in your career.
The flexibility to learn from anywhere at any time.
Knowledge to advance in your current career.
Wide range of topics and online video courses.
Exposure to international and cultural differences and perspectives.
Far more affordable than a technical or liberal arts college.
And many, many more!
When you consider that more than 78% of the population believes in using the best online learning platform to further their education or career, it only makes sense to try them out.
Find a tutor for this topic
The Best Online Learning Platform
The best online learning platform is the one that works best for you. There are multiple options available, each with its own strengths and weaknesses. Therefore, it's important to pick a solution that fits your needs—there's no one-size-fits-all solution.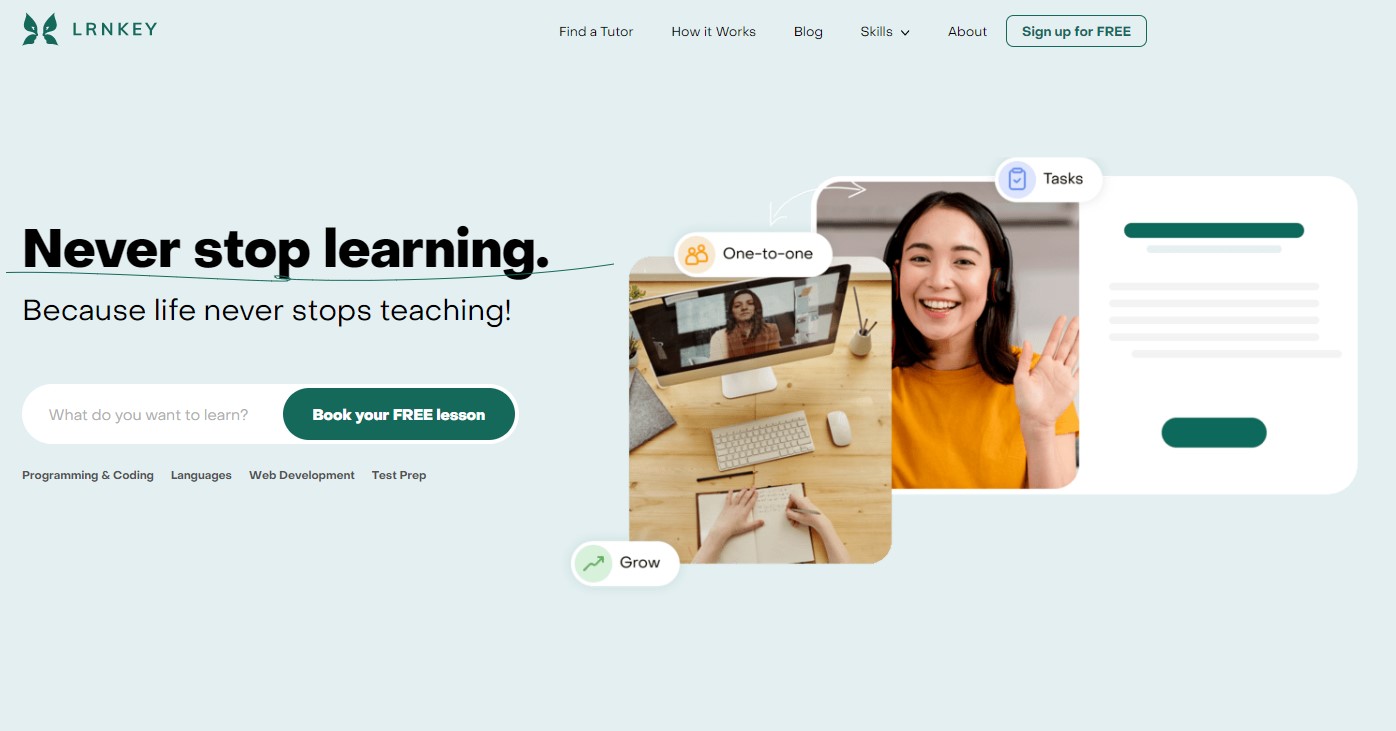 As a student, you've probably been in this situation: you're bored of your school's classes and want to learn something new. Maybe you want to start a business or get better at coding. The good news is that tons of resources can help you achieve those goals, but it can be challenging to figure out which ones are worth your time and money.
Lrnkey aims to make the process easier for people. It provides a single platform with access to thousands of online tutors who teach everything from coding and languages to business skills, design practices like UI/UX design, writing fiction and poetry, financial literacy, and more. Offering courses in as many different subjects as possible allows learners to find something that interests them and gives them an opportunity for personal growth.
The difference with Lrnkey is that instead of using online video courses, you are matched with online tutors that will provide one-on-one instruction. These international experts in their fields work with your schedule to set up the best time of day or night to learn a new skill. The entire online learning platform is cost affordable and easy to get started. You can review different tutors based on their profiles and reach out to connect with the ones you think will teach you the most valuable skills.
Pros:
Direct interaction with someone highly skilled in their area
Easily maintain a record of your progress
Every session is adapted to your individual needs
All of your questions get asked
Flexible timing and schedule that fits your day
Less stress trying to keep up with the rest of the class
International perspective on new topics
Cons:
No official degree or certificate at the end
No competition between you and other peers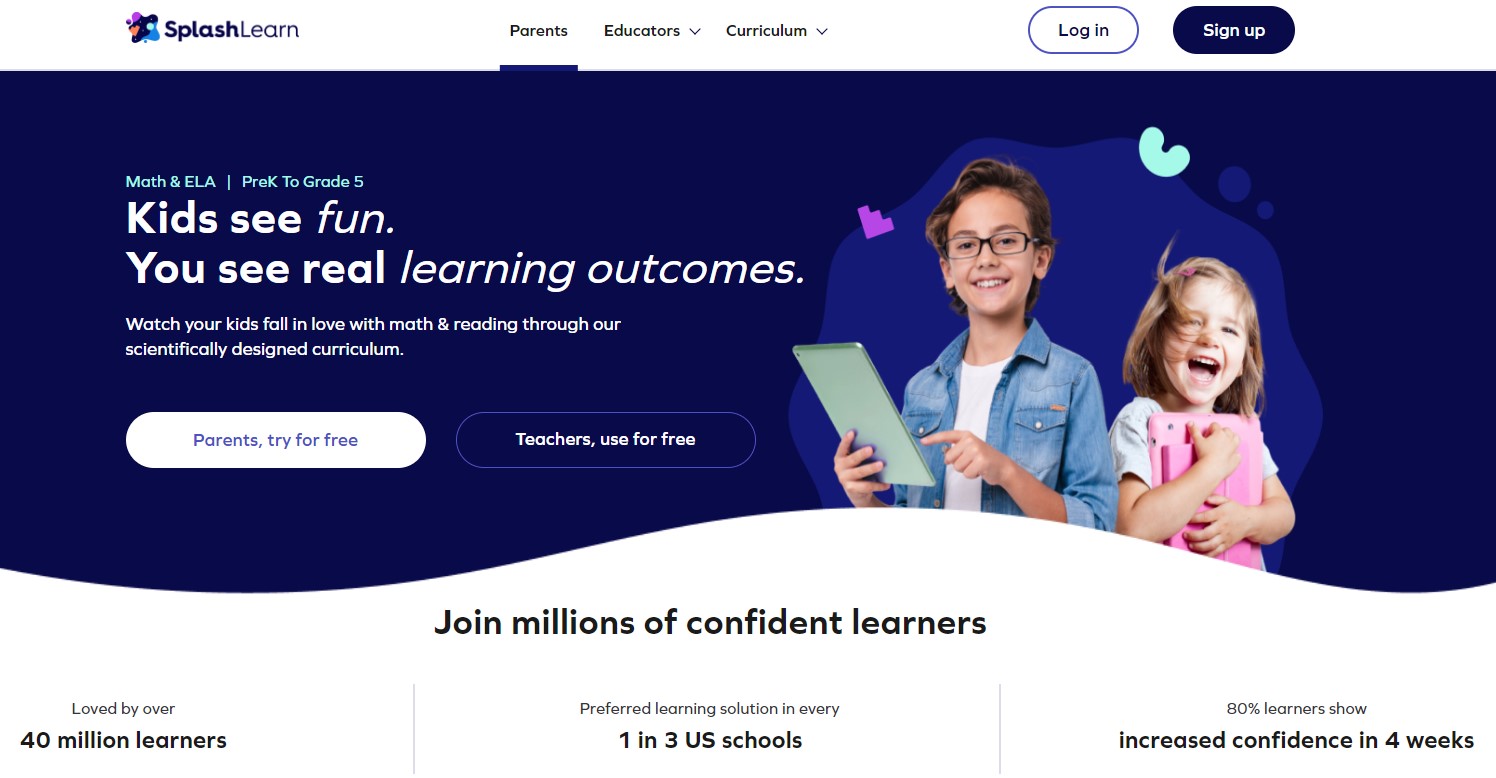 Splashlearn is a leading online learning platform that provides an innovative and comprehensive education experience for students in grades PreK-5. With its cutting-edge technology and alignment with Common Core Standards, Splashlearn offers an extensive library of interactive games, fun worksheets, and live classes, catering to all learning styles and abilities.
At Splashlearn, they believe that quality education should be accessible to all, and they strive to make it affordable and enjoyable for students worldwide. With its engaging content and fun learning environment, Splashlearn has emerged as a top choice for parents and educators alike.
Features:
Learning Games: Interactive and entertaining educational games that reinforce Math and ELA concepts.
Worksheets: Printable worksheets for additional practice and reinforcement of key skills.
Live Classes: Access to live classes or virtual classrooms where students can participate in real-time interactive sessions with instructors or educators.
Real-Time Feedback: Instant feedback and progress tracking to help students monitor their performance and make improvements.
Benefits:
Enhanced Math and ELA Skills: Students develop a strong foundation and proficiency in Math and ELA.
Increased Confidence: Personalized learning and real-time feedback boost students' confidence in their abilities.
Active Engagement: Interactive games and adaptive learning techniques keep students actively engaged in the learning process.
Pros:
Engaging and Interactive Learning Games: Stimulating games capture students' interest and make learning enjoyable.
Personalized Learning Paths: Customized paths cater to each student's specific needs and pace.
Adaptive Technology: The platform adjusts content to match individual abilities, optimizing learning outcomes.
Real-Time Feedback: Students receive immediate feedback, enabling them to track progress and make improvements.
Cons:
Internet access is required.

If you're looking for a comprehensive online learning experience. Skill Success is your go-to destination for high-quality courses across a wide range of subjects. With an extensive library of over 4,000 courses taught by industry experts, Skill Success offers a flexible and accessible learning platform for learners of all levels.
Whether you want to upgrade your professional skills, explore new hobbies, or improve your personal development, Skill Success provides engaging and interactive courses designed to help you succeed. Upon successfully completing a course on Skill Success, learners receive certificates of completion, providing tangible proof of their newly acquired skills and knowledge.
Pros:
Extensive course library
Flexible learning experience
Affordable pricing
Offers 10-day money back guarantee
Cons:
Limited advanced courses
Variable course quality
No one-on-one instruction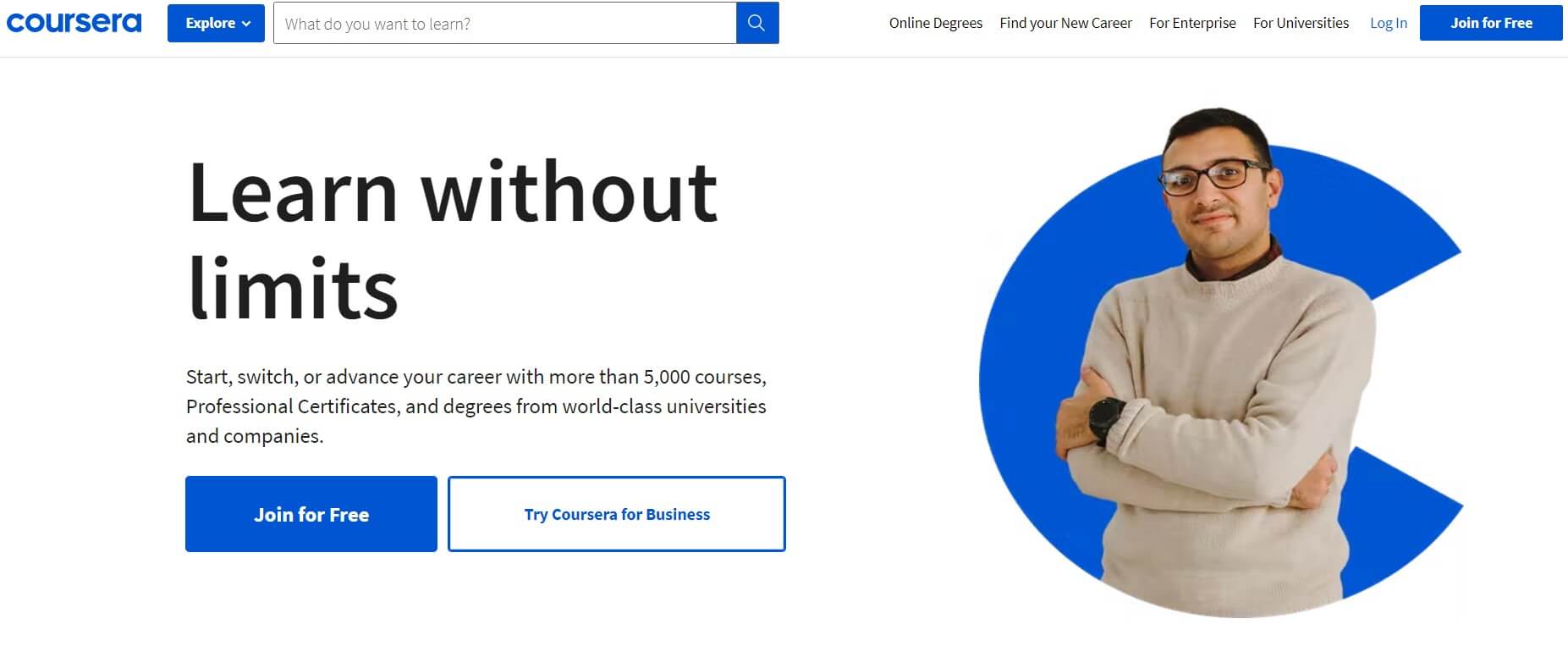 With more than 7.3 million students taking online college courses, Coursera created an online learning platform that offers online courses, specializations, and certificates in subjects like data science, business, and computer science. These courses are taught by faculty members who use the same pedagogical principles as they would when teaching on campus but deliver them via an online medium in pre-recorded lessons and materials.
As of right now, Coursera offers 20 degrees and 17 MasterTrack certificates. Classes are offered at no cost as part of their open learning initiative, but students can also pay a fee per class or sign up for one of their specializations which will allow them access to premium features such as a certificate of completion at the end of each course within that specialization area. Current educational institutions partner with Coursera to deliver degree-related supplements to on-campus learners with scheduling conflicts.
Pros:
Major university partnerships
Large catalog of courses
Learn from anywhere
Affordable to learn a new skill
Cons:
Expensive to pick up a certification
No individualized instruction. If you get stuck, you are on your own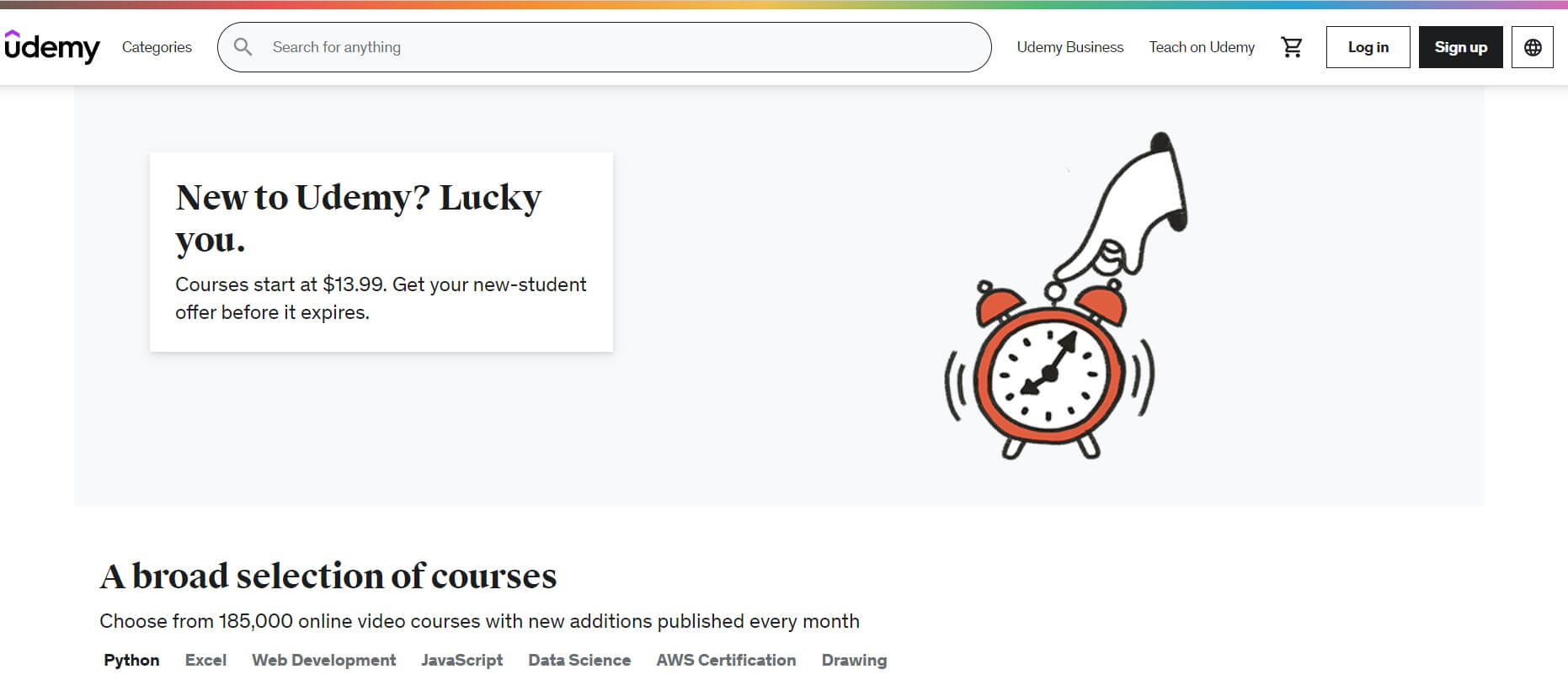 Udemy is a global marketplace for learning with an online learning platform that is probably the largest currently. They feature thousands of carefully produced courses edited by independent instructors for millions of students worldwide. This includes offering educational space to businesses that wish to develop training programs for their students.
Udemy's mission is to democratize education.
They believe that everyone should have access to the best educational resources at affordable prices. Their platform has enabled thousands of instructors from around the world to share their knowledge with others across industries and interests, including technology & software development, business & management, health & fitness, communication & writing skills, as well as arts & entertainment, etc.
Pros:
Affordable pricing depending on your course
Free courses on basic, entry-level topics
Lifetime access to specific courses
Certificates available for paid courses only
Cons:
Not accredited by major universities, so no course is part of a university program
Can get expensive for advanced training
No one-on-one instruction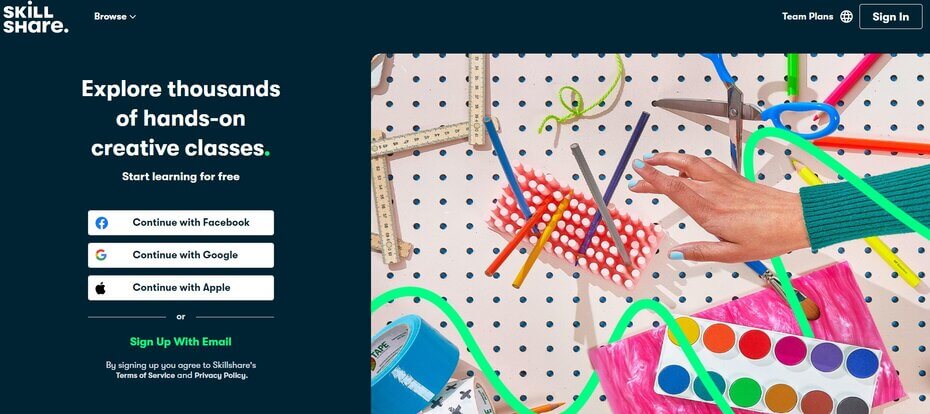 Skillshare is a great platform for anyone who wants to learn a new skill. This online learning platform allows you to access virtual classes developed by industry leaders and experts. Skillshare offers a bit of a different model than the others. There are mostly pre-recorded, self-paced courses that you cover with a membership. However, there are also workshops that allow you to test your newly acquired skills in a group setting.
Skillshare is trying to expand on the group or "classroom" idea on its online learning platform. While that is still in its infancy, it is further evidence that the popularity of active instruction where your questions can be answered by someone with the skills and understanding far outweighs video lessons.
This is a good platform for online tutors who cannot offer students a schedule. You can easily create a curriculum based on the Skillshare Teacher Handbook with easy-to-follow lessons.
Pros:
Free and Paid Classes
Easy to learn development of coursework
Learn on your own or in a group setting
Encourages peer networking and competition
Good value for your money
Cons:
No one-on-one instruction
Not a certificate-related program
No instructor quality control
Occasional ad popups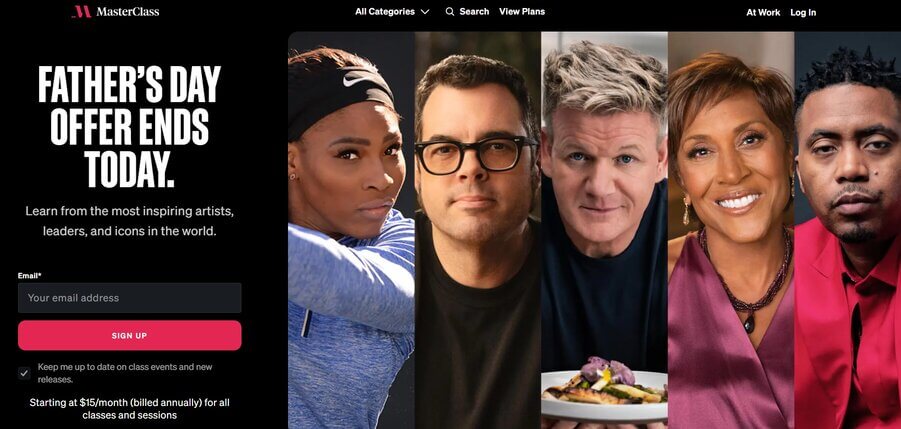 MasterClass is a platform that offers online courses taught by professionals in a variety of fields. The classes are taught by experts in their fields and are designed to help you master their craft. This online learning platform uses celebrities and exceptionally well-known names as its instructors. You could learn writing from famous author James Patterson, business management from Walt Disney CEO Bob Igor, or even how to BBQ from award-winning cook Aaron Franklin.
The classes have an extensive library of learning tools like video tutorials, study guides, and interactive quizzes. These are highly produced videos from many recognizable cinematographers and editors. While everything looks amazing, there is no one-on-one instruction, and the information is not updated because the schedules of these experts and celebrities are so packed.
Pros:
Fairly affordable pricing
Learning a skill from someone well-known in their industry
Beautifully produced video content
Unique insights from top-tier professionals
Cons:
No certificates or free classes
A lack of student reviews
No one-on-one instruction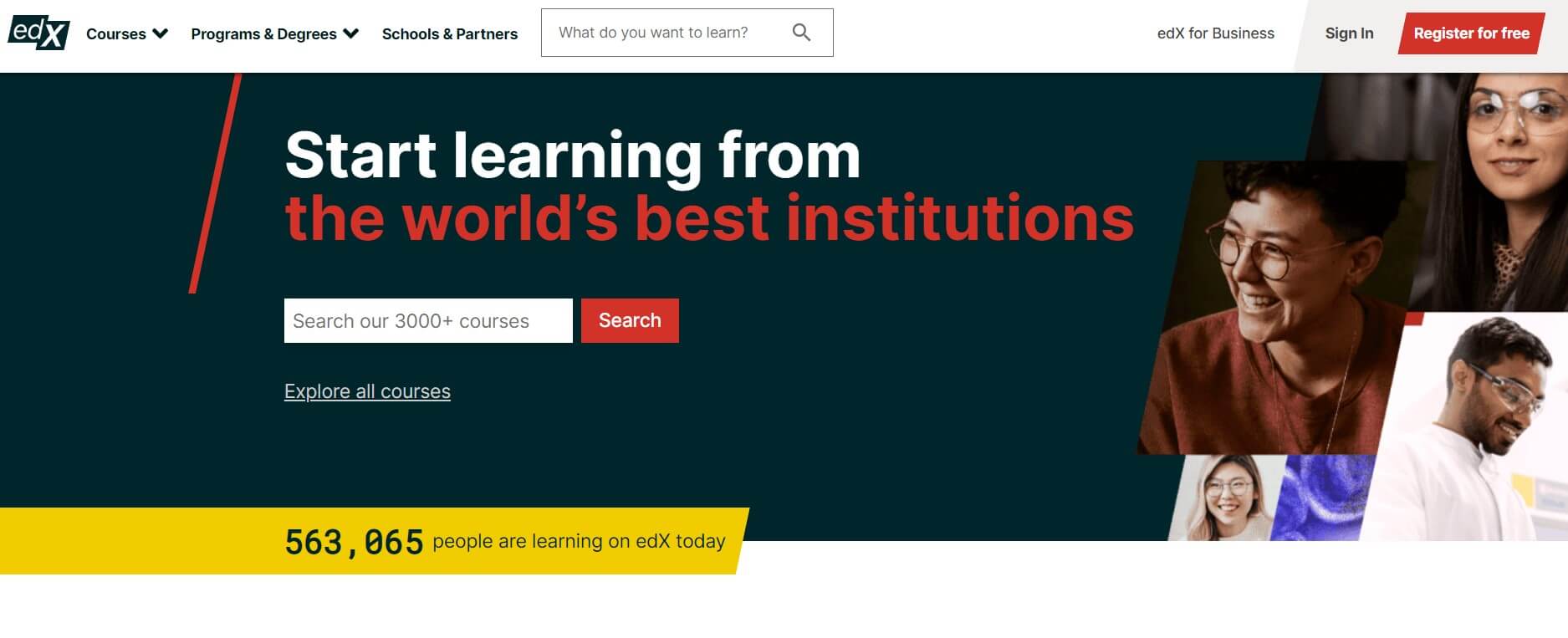 EdX is a nonprofit MOOC provider launched in 2012 by Harvard University and the Massachusetts Institute of Technology (MIT). Since then, it has grown to become the largest provider of MOOCs in the world. EdX offers over 3,000 courses in dozens of subjects, with a high average completion rate.
This is a highly regarded MOOC for certificates recognized by some institutions and job opportunities because of the notoriety of the schools you are learning from. You are a fly on the wall of courses like Introduction to Computer Programming and Business Management.
The platform offers free courses on its website and mobile apps for iOS and Android devices. It also provides certificates of completing certain classes at a cost that depends on your country.
Pros:
Verifiable certifications from significant universities and colleges
Generous refund policy
Free course audits
Learn at your own pace
Cons:
Limited courses compared to other online learning platforms
No precise course structure or curriculum
No one-on-one instruction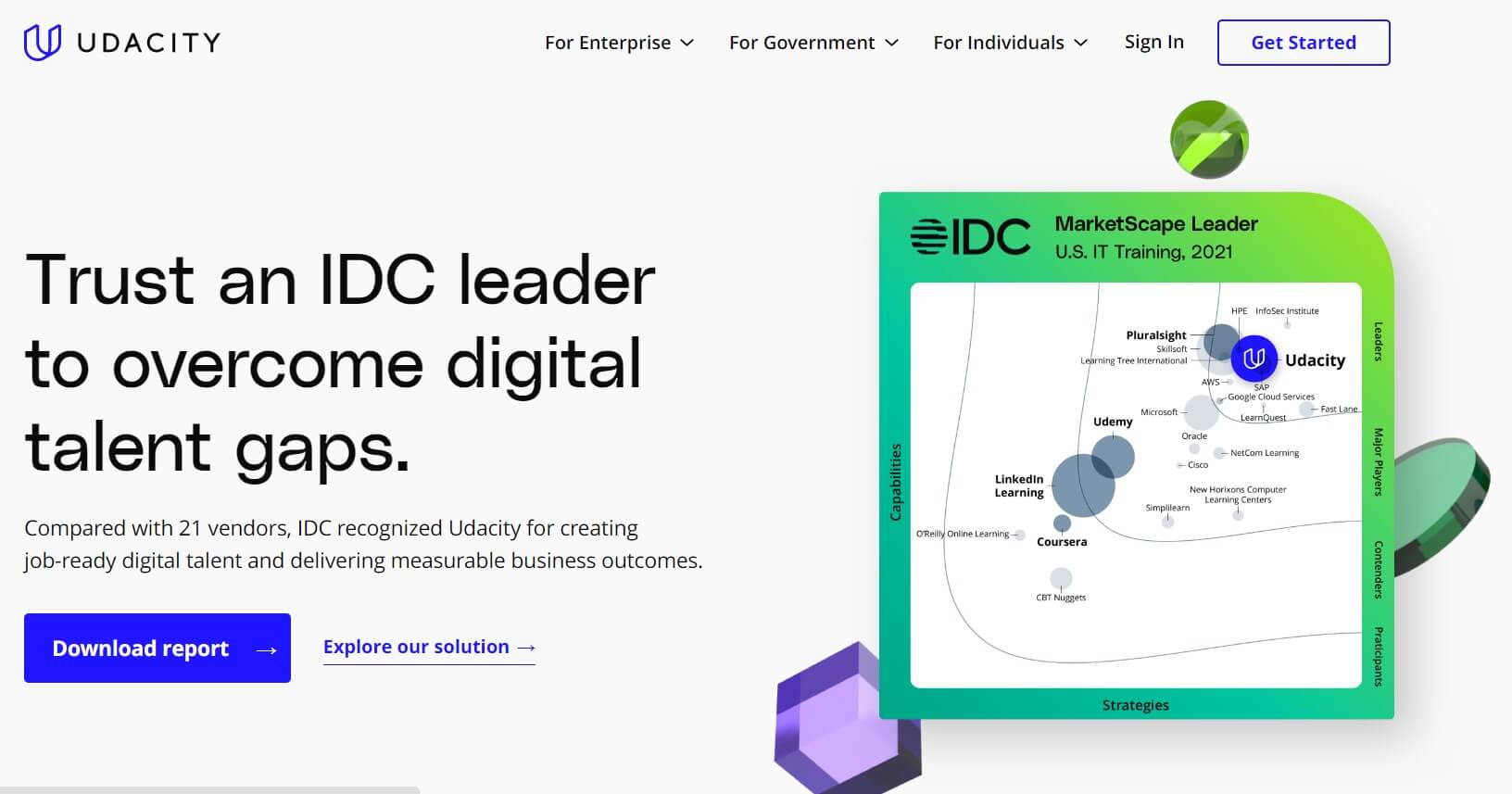 If you're looking for a good place to learn about programming, computer science, and data science, Udacity is a great option. It offers courses in the three fields mentioned above, ranging from beginner to advanced level.
Udacity aims to offer "nanodegrees" from major corporation partners like Google, Microsoft, Apple, and IBM. This creates better training for potential employees for these businesses to pick from in the future. It is also leading the charge for mass education of technical skills related to technology and communication.
This online learning platform is designed more for science, technology, and math, than any other topic.
Pros:
Excellent quality of content
Free courses are available
Ongoing career services for certain nanodegrees
Certifications of completion
Great for upskilling/reskilling
Cons:
No one-on-one instruction
Can get expensive
Only available in English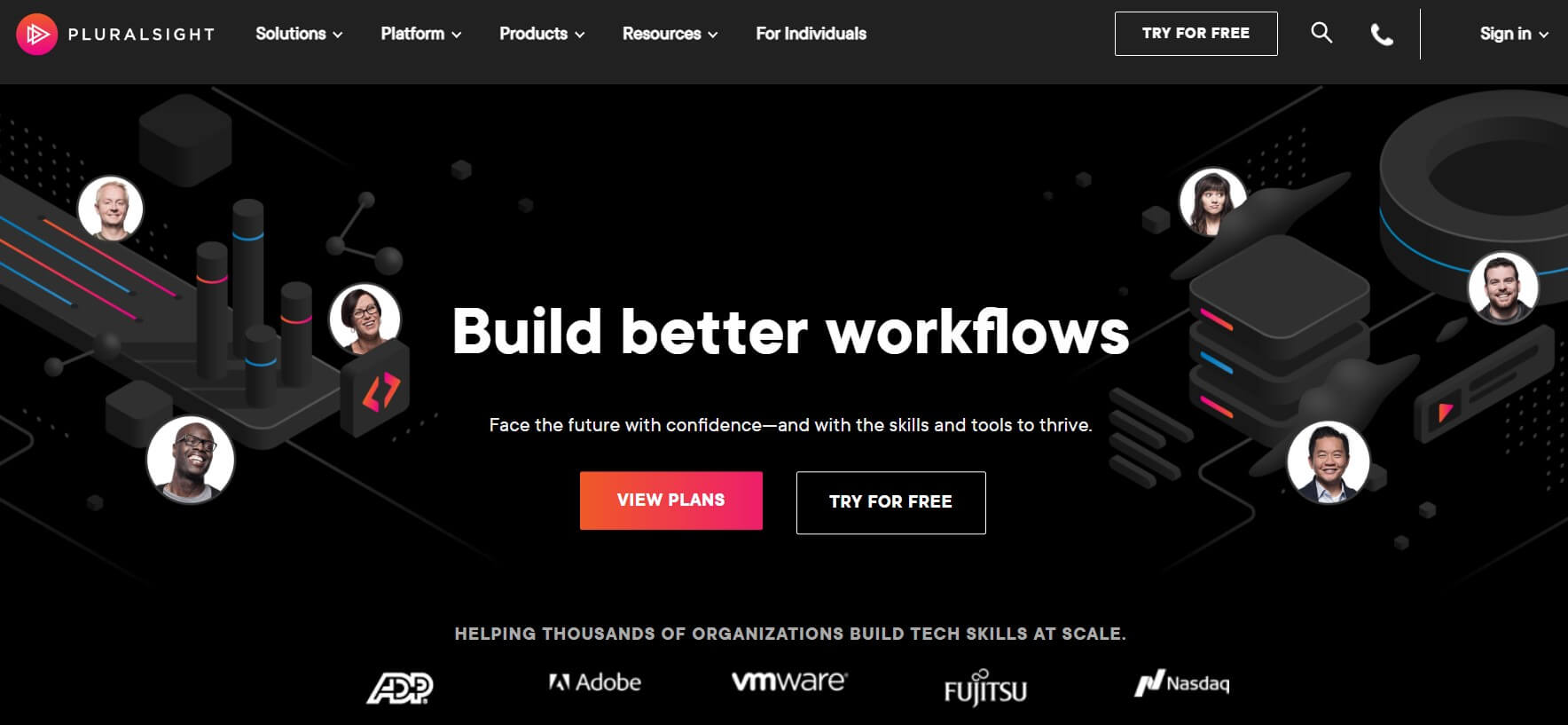 Pluralsight is an online learning platform that offers courses in IT, technology, and creative skills. The Pluralsight catalog has grown significantly since its founding, when it only focused on business classroom training. Video lessons can be accessed through a monthly subscription or by purchasing them individually.
Everything is based on a self-paced educational model with a supportive library, documentation, and resource access. All the courses are organized into 3 levels of skill (novice, proficient, and expert), and most are related to IT fields.
Pros:
Free trial is available with good support
Courses are designed for individuals or teams
Offline downloads are available
Cons:
Limited topics, mostly in IT
There are no free courses
No one-on-one instruction
Which Best Online Learning Platform is the Most In-Demand
You might think the best way to find out which learning platform is the most in-demand is to look at their respective market shares. But this strategy doesn't always work. For example, when it comes to online learning platforms, you'd think that Lynda would be king since it's owned by LinkedIn (which has more than 545 million users). But for 2019, Coursera currently holds more subscribers than all other significant players combined.
Even with those numbers, the benefits of online tutoring outweigh pre-recorded video sessions. Students benefit more from face-to-face learning, which is only available on platforms like Lrnkey. There you can match up with an online tutor who can offer customized instruction for your needs.
One-on-one classes are an excellent way for students to get the kind of personalized attention they need. The teacher can answer questions, provide feedback and help, and give individualized assistance to each student. Because there is only one student per class, the teacher has more time to spend with them and get them back on track if they've had difficulty learning something new in their previous lessons. If you want to know how tutors develop their time tracking and have high efficency, you can check out learning management software and examine how it works.
Students who prefer one-on-one classes often do so because it allows them to learn at their own pace without having their progress slowed down by other students who may be moving faster or slower than they are.
What Online Learning Platform is Right for You?
Whether you're learning a new language or skill, these are the best platforms to help you get there. Online learning is here to stay. The convenience and accessibility of online courses make them an attractive option for people looking to expand their knowledge base or start fresh with a new skill.
Finding the one that will work for you will depend on your individual needs. That is why Lrnkey is our top choice. It gives you the freedom to explore ideas in a safe, reliable, and individualized session with an expert in their field instead of getting lost in the mix of a large group or pre-recorded course.
If you want to learn with a platform that offers fantastic content, engaging instructors, and a supportive community, then Lrnkey is the place for you. We have been working hard over the past year to create a one-of-a-kind learning experience for students worldwide. If you are interested in learning more about our platform and classes, please sign up today!