Technology has made it easier for teachers to create quizzes, polls, and surveys in online classrooms, which helps to support students' studying from anywhere.
Teachers may want to use quizzes, polls, and surveys as a way to engage their students and make learning more interactive. They can be used as a fun way for students to test their knowledge on a certain topic or evaluate their understanding of the material being taught.
In the context of online teaching, the use of online quizzes, polls, and surveys becomes particularly valuable. With the shift to virtual classrooms, educators face the challenge of ensuring active student participation and effective assessment from remote locations. Online quizzes, polls, and surveys provide a seamless solution by enabling teachers to engage students in interactive activities, assess their understanding, and gather valuable feedback, all within the online learning environment. These tools bridge the physical distance between teachers and students, fostering a sense of connection and collaboration while promoting active learning and providing valuable insights into students' progress and comprehension. In this article, we will explore the top 10 teacher tools for creating engaging quizzes, polls, and surveys, empowering educators to enhance the online teaching experience and maximize student engagement and learning outcomes.
What advantages do online quizzes, surveys, and polls offer?
When students participate in surveys and quizzes, it helps them enhance their critical thinking abilities. This, in turn, can improve their engagement and retention of the learned material, leading to a more positive learning atmosphere where students are more confident and eager to learn.
Using quizzes, surveys, and gamification techniques like contests, team play, badges, interactive webinars, and rewards can help assess learning more effectively.
Teachers can improve their assessment skills and stay informed about their students' progress by regularly using quizzes and surveys.
Online assessments help to create a sense of responsibility among students and provide feedback, which keeps them accountable for their work. This can lead to a positive learning environment and motivate students to study harder.
Gathering students for online assessments can promote a sense of community, boosting interest in the course material. By fostering connections among students, this can create a constructive learning environment while motivating involvement in the course. Research confirms that when students feel that their teacher cares about and listens to them, they are more likely to succeed academically.
Participating in surveys and quizzes not only enhances students' critical thinking abilities but also fosters the development of vital communication skills. By engaging in interactive assessments, students have the opportunity to articulate their thoughts, express their ideas, and effectively communicate their understanding of the subject matter. This not only strengthens their comprehension but also prepares them for real-world scenarios where communication skills are essential.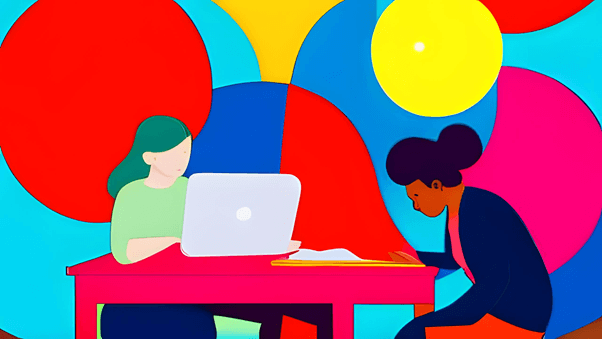 Find a tutor for this topic
Tips and Tricks For Creating Effective Online Quizzes, Polls, And Surveys
To create educational materials that are effective, it's important to first identify the purpose behind creating them and how they can serve their intended use.
To achieve success, consider these questions:
- What is the purpose of your quiz or survey?
- What specific information or data are you trying to gather?
- What outcomes or achievements do you expect to see?
Choose what Style of Survey You Want to Create
If you know your goals better, you can decide more wisely whether to go for online quizzes, online polls, or online surveys.Make Sure It's Relevant and Useful
If online quizzes and surveys are unrelated to your course or don't provide any valuable information, they can be a waste of time despite being useful tools.
Keep Things Brief
It's better to keep your quizzes and surveys under ten minutes in length. Shorter quizzes allow students enough time to think and provide more chances to display their knowledge.
Provide Feedback
When making quizzes or surveys to assess student understanding, it's important to offer feedback. This feedback could be in the form of a grade or a message that indicates how well students are doing in comparison to their classmates.
Make it Collaborative
To enhance engagement and create quizzes, polls, or surveys, teachers can utilize digital platforms like Markup Hero to share visual content. Markup Hero offers tools for annotations and markup that facilitate collaboration between teachers and students in assignments and documents, enhancing the educational experience through more interaction. Markup Hero's user-friendly interface allows teachers to add comments, highlights, and annotations to visuals, such as documents and images, swiftly and easily. The feature allows teachers to immediately share their annotated materials with students, ensuring more straightforward collaboration and organization.
Markup Hero, with its powerful annotation and feedback tracking capabilities, offers a unique alternative to traditional quizzes and surveys when it comes to creating a collaborative learning environment. By utilizing Markup Hero, teachers can go beyond simple multiple-choice questions and engage students in a more interactive and immersive learning experience. Students can actively participate by annotating and marking up documents, images, and assignments shared by the teacher. This not only allows for a deeper understanding of the material but also encourages critical thinking and collaborative problem-solving. The ability to track annotations and provide feedback in real-time enables teachers to monitor student progress, identify areas of improvement, and facilitate meaningful discussions. With Markup Hero, the learning process becomes a dynamic and collaborative journey, promoting active student engagement and fostering effective communication and comprehension skills.
7 Tools To Create Quizzes, Polls and Survey
Google Forms
Google Forms is a tool for creating online surveys and collecting data that is ideal for teachers. With it, teachers can create customized forms and surveys effortlessly to gather information from students. They can collect data from the forms in real-time and see the outcomes in a spreadsheet. Additionally, Google Forms is a practical and well-organized method for teachers to receive input from their pupils.
Kahoot
Kahoot is a platform that lets teachers create fun and educational quizzes for their students. It offers various activities, which can be customized for specific subject areas, age groups, and learning objectives. By using Kahoot, teachers can track student progress over time and create their own quizzes or use existing ones. Students can participate using their phones or computers, interact with each other, and receive unique assessments from the teacher. With Kahoot, learning is highly engaging, enjoyable, and effective, as it encourages collaboration and competition among students.
Zonka Feedback
Zonka Feedback survey software is a useful tool for educational institutes to collect feedback in large quantities. The software offers customizable survey templates that can be shared through various digital channels, such as mobile, tablet, SMS surveys, email, mobile app, kiosk, website, live chat, and QR code. Additionally, the software provides analysis tools to create reports that give a broad overview of student feedback data.
Survey Monkey
Survey Monkey is a tool that allows teachers to create as many surveys as they need and personalize them with diverse types of questions like multiple choice, ratings and open-ended. They can distribute them among students without difficulty and obtain results immediately. Besides, Survey Monkey gives them analytical instruments to quickly gather information and opinions from students, parents, and colleagues. This way, teachers can enhance their teaching based on data analysis.
Typeform
Typeform is a tool that helps teachers create customized surveys and forms for collecting feedback from students and parents about the curriculum, activities, and teaching methods. In addition, it provides the option to create quizzes and tests for evaluating students' understanding of the courses and monitoring their progress throughout the academic year. Overall, Typeform is a helpful resource for teachers to collect data, obtain useful insights, and enhance their teaching strategies.
Hot Potatoes
Hot Potatoes is a website that provides a fun way for students to learn. It offers six activities: The Masher, The Crossword, The Word Scramble, The Jumbled Sentence, The Gap Fill, and The Hangman. These activities can help improve critical thinking, vocabulary, and language skills. Additionally, Hot Potatoes has a quiz maker feature that allows teachers to create custom quizzes and evaluate student progress. The website uses English as its output language.
Poll Everywhere
Poll Everywhere is a tool that lets presenters engage their audience in real-time. It includes polls, surveys, and quizzes designed for teachers to gather feedback and responses from students. Students can send responses using their mobile phones, laptops, or other devices. With analysis features, teachers can review and evaluate results promptly. Poll Everywhere is versatile and can be utilized for lectures or workshops.
Quizlet
Millions of students, teachers, and parents worldwide use Quizlet, an online learning platform that offers customizable flashcards, study sets, practice tests, and online quizzes. Additionally, teachers can use its content-creation tools to create interactive learning experiences for students. Quizlet makes learning enjoyable and effective with its user-friendly interface.
Socrative
Socrative is a tool that allows you to create quizzes, surveys, and polls to evaluate students' comprehension of a topic effectively. It enables you to monitor their progress and examine their responses instantly. You can also easily produce real-time reports of their results and export them to PDF, Excel, or Google Drive. Socrative is accessible on various devices, such as laptops, tablets, and smartphones.
Zoho Survey
Zoho Survey provides many customizable templates and features such as different question types, survey logic, language support, and more. It enables users to create surveys, track responses and analyze results with ease. Additionally, Zoho Survey integrates with other Zoho applications for creating surveys that fit specific business needs. The interface is intuitive, making it simple to create, distribute and view reports on survey performance.
Conclusion
Using online quizzes, polls, and surveys is not only effective in evaluating students' performance and increasing their engagement in the learning process but also addresses a top concern for improving education, as recognized by the United Nations. By choosing the right assessment tools and leveraging the power of data, educators can gather valuable insights into student progress, make informed instructional decisions, and enhance the overall quality of education.