The term "freelancer" refers to a person who earns money on a per-job or per-task basis, usually for a short period of time. Freelancers are not employees of a firm and may therefore be at liberty to work on multiple projects concurrently. However, they are contractually obligated to work exclusively on a particular project until it is completed.
Successfully operating as a freelancer is no easy task. The key to being a successful freelancer is courage, entrepreneurship, motivation, and the ability to excel in certain skills. Generally, freelancers do not have to provide proof of their educational history. However, is a university degree essential for freelancers? Or is learning online enough for becoming a freelancer?
Over the past few years, the freelance industry has experienced a significant increase, and it does not appear to be slowing down. In the case of businesses, 'contracting' freelancers offers numerous advantages, including Pay-per-work, cheaper labor in some cases, and the absence of the need for an office space. However, the question remains, is learning online enough?
The freelance industry is experiencing rapid growth in the number of online courses available to provide people with the necessary skills to become freelancers. The following is a list compiled to provide you with the help to expand your knowledge. It also provides insight into which course would be most beneficial for launching your freelance career.
What are the steps to becoming a freelancer?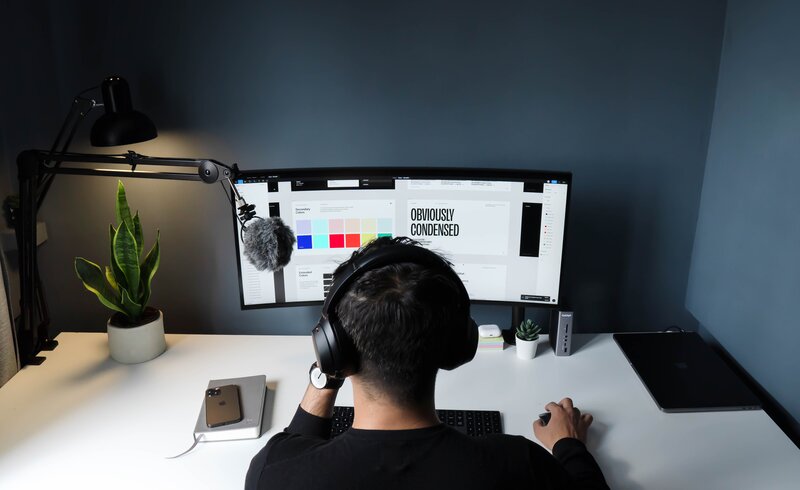 If you would like to begin the process of establishing yourself as a freelancer but are unsure where to begin, you have come to the right place. The purpose of this article is to discuss how to become a freelancer in 2021 and how Lrnkey can help you with learning online.
As more people seek to enhance their skillset and gain an education in an area that purely interests them or about which they are passionate, rather than selecting a college, university or other educational destination, more and more people are choosing to pursue online learning. People with high educational credentials are attracted to freelancing since they believe they can utilize their knowledge without being part of a large organization. Having a degree does not have to be the only way to be successful as a freelancer although some employers may favor freelancers with formal qualifications. Yet too often, degrees are still thought of as lifelong stamps of professional competency. They tend to create a false sense of security, perpetuating the illusion that work — and the knowledge it requires — is static.
Your ability and knowledge can speak greatly for your skills as a freelancer and prove to employers that you are ready to take on a challenge. However, having online courses can most definitely place you in good stead with employers looking to hire freelancers and we will dive into why Lrnkey can help provide you with the online courses to get you kickstarted to become a freelancer.
Find a tutor for this topic
Prior to starting a course the best way to become an expert and be able to offer your services on a particular skill is to start from the very beginning.
Decide what area you would like to explore.
Do the research and find as much information as you can
Understand the pros and cons of the particular skill
Watch videos and talk to the people who are already doing that
Start learning with Lrnkey
Define your service & offering
A freelancer's first step is to turn their skills into service. To do this, you'll need to understand how your skills can help a prospective client. Try to put yourself in the shoes of your ideal client. How can you resolve their issue using your skills?
Find your target audience
Now that you have a freelance service to offer, you'll need to find a target audience. Start by identifying the type of clients that will be a good fit for your service. Do these clients have a shared problem and common characteristics? Are they in a specific industry?
Do the research and find as much information as you can
Understand the pros and cons of the particular skill
Watch videos and talk to the people who are already doing that
Start learning with Lrnkey
Lrnkey offers a wide array of tutorials and courses that can benefit you in your career, or simply enrich your knowledge in an area of your choice. It is uncanny how simple Lrnkey is to use. We are leading the online learning field with Lrnkey. The site offers a large selection of tutorials and courses that provide you with information in an engaging and interesting manner.
Lrnkey has three easy steps to start the process.
Choose your tutor by watching an intro video from the instructor. Learn about the course and explore student reviews. Lrnkey prides itself on its 100% transparency.
Book your lesson. Only schedule lessons at a time and date that suits you! Choose your preferred time interval by clicking on blocks.
Become an expert. Connect with your teacher via a video chat software, and let the learning begin! We ensure an improved one-on-one experience
Our mission at Lrnkey is to provide great instructors and we encourage our community to vet and rate our instructors so that you can benefit from the best online instructors approved by former students.
Affordable classes As our instructors and tutors come from all around the globe, they can offer high-quality teaching at a more affordable local rate starting as low at $7/hour.
Free Trial Lessons Most of our tutors and instructors offer free trial classes. You will be able to determine if you enjoy the classes and the learning process.
This site hosts a wide range of freelancing skills that can be mastered quickly. With LRNKEY, you receive an in-depth feeling of individuality that is unmatched, and courses can be taken at the student's own pace. Whatever your level of expertise is, whether you are a hands-on person or a technologically-oriented person, Lrnkey is the best place to begin building or enhancing your skillset to become a freelancer. You can find courses on the Lrnkey website covering topics such as crochet, business lessons, coding and many more.
Top 3 Benefits of freelancing in 2021
1. Most people dream of having a flexible work life, which freelancers have. Since freelancers set their own schedules, it is impossible for them to suffer from the 'Monday Blues'. Regardless of your working pattern, you have full control as long as your work is completed before the deadline. Furthermore, you are able to perform all your work via the internet, so you are not restricted by location.
2. Freedom to follow your passion - There are several benefits of freelancing, including being able to follow your passion, choosing your own tasks, establishing your own schedule, and being your own boss. It's a smart way to turn your hobby into a successful career. A writer, graphic designer, or programmer decides to specialize because he or she loves the work. You dedicate your passion and time to the work that you choose.
3. Increased earning potential - In theory, a freelancer can earn as much as they want. The main difference between working for a traditional company and being a freelancer is that you can negotiate your own rates. The rate you set for yourself should be based on your skills, not the number of years you have worked. If your clientele and reputation are strong, you can raise your rates periodically once you have built up a successful clientele. Your income is parallel to your work. The more hours you commit, the more you work, and the more you get to earn. Start learning high-income skills right now.
Top 3 most in-demand freelance positions.
Web App Development - Since the prominence of web technology has increased, so have the number of businesses who are adopting it. Developing web apps is definitely a skill you can use to find freelance work but Lrnkey has the skilled teachers to help you get your level high. A job like this, however, requires quite a few advanced skills. As more businesses start running their online operations in-house, developers are going to be in high demand. And as a freelancer, it's your job to adapt to the needs of the customer.
Social Media Management - Currently, the most rapidly growing freelance job is Social Media Management. Upwork reports that there are more freelancers than there are people in need of Social Media Management services. In addition to utilizing social media as part of their strategy, companies are turning to newer technologies like artificial intelligence (AI) to engage online. Social Media Management specialists are in high demand because they are able to manage multiple social media accounts simultaneously.
Translator - Content that is localized is an effective marketing strategy for publishers, advertising agencies, and global corporations. There are also some countries and cultures where it may be necessary to contact potential customers only through email. That's where freelance translators come in. Professional translators, however, are not only fluent in the language they translate to/from, but they also have a background and work experience in their field of translation. Take on work that relates to your experience if you want to make money as a freelance translator.
To summarise. Overall, no matter what field you are interested in, what passion you have, whether you wish to become a freelancer or just enrich your skill-set and knowledge on a certain topic Lrnkey has it all in one place. With their competitive pricing, highly qualified teachers and a vast range of courses Lrnkey should be your first stop to embrace the freelance world.