Are you interested in advancing your career? Or in earning some extra money? Acquiring high-income skills without a degree is possible to gain! You might be thinking, what high income skill can I learn to make money? A well-developed skill set makes your resume stand out from the competition. Additionally, it gives you greater bargaining power during employment negotiations and increases your promotion chances.
Nowadays, cognitive abilities and skills primarily determine a professional's portfolio at the policy level, in education at all levels, and on the job. Nowadays, people have been pushed to learn new skills to increase their earnings from home due to Covid-19.
Such high-income skills to learn can be acquired without a degree and, in some cases, for free. To the extent that traditional education is relevant in specific fields, it is also imperative to focus on continuing education and developing attractive skills for employers. This is in order to compete in the modern job market.
Here's a list of the 5 most accessible high-income skills you can learn online from home.
To acquire a high-income skill, you should begin the learning process as soon as possible. According to relevant research, high-paid individuals are generally more likely to practice and develop the five main personality traits that enable them to earn money and use their skills (such as the motivation to work hard, be organized, and to work hard).
The best way to become an expert on a particular skill is to begin from the very beginning.
o Decide which skill you would like to learn.
o Do the research and find as much information as you can
o Understand the pros and cons of the particular skill
o Watch videos and talk to the people who are already doing that
o Start practicing
Initially, you will not make a great deal of money. Don't give up. It would help if you continue to learn and gain expertise. Focus on the most valuable skills to learn for yourself. Over time, you will be able to get a suitable job according to the level of experience you possess and begin earning a higher income salary. One benefit of learning these skills online is that you do not need to deal with exam stress.
Which skills are commonly associated with high incomes?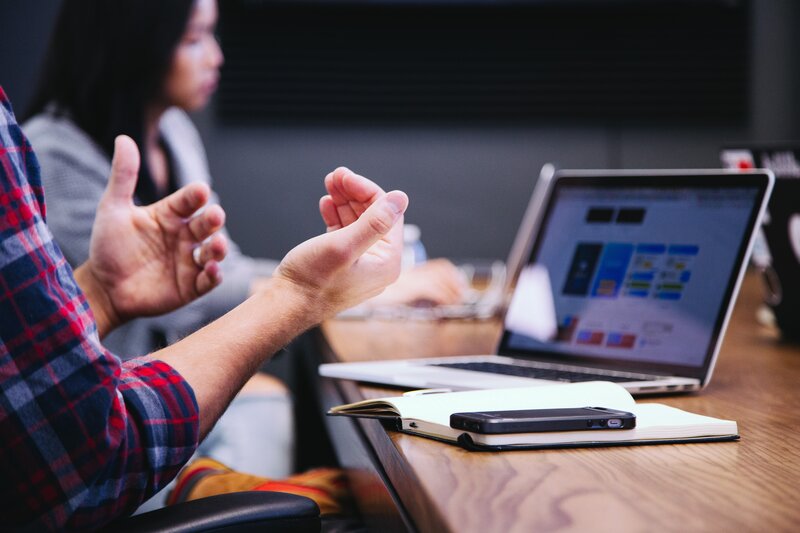 Every company needs competent specialists who work on the development of their products and professional competencies.
Which of these competencies will be the most in-demand in 2022? LinkedIn Learning decided to conduct a study on this topic. The company's specialists collected up-to-date data from more than 600 million job seekers and more than 20 million employers to identify the most in-demand soft skills and hard skills in 2022.
Soft skills are sup-subject competencies that allow you to effectively interact with people, quickly navigate and adapt to new conditions. Hard skills - professional skills, this set of competencies are associated with the technical side of the activities carried out. If soft skills are high-income skills you can learn for free or can be developed independently during life thanks to experience then hard skills are acquired in the course of studying at school, university, and other educational sites.
Among the soft high income skills, 5 leading positions were occupied by:
Creativity
The ability to convince
Teamwork
Adaptability
Emotional intelligence
The top 10 according to the LinkedIn Learning study were the following hard high income skills:
Blockchain
Cloud services
Analytical justification
Artificial Intelligence
UX design
Business analysis
Sales
Scientific computing
Creation of video content
What are some of the high-income skills of 2022?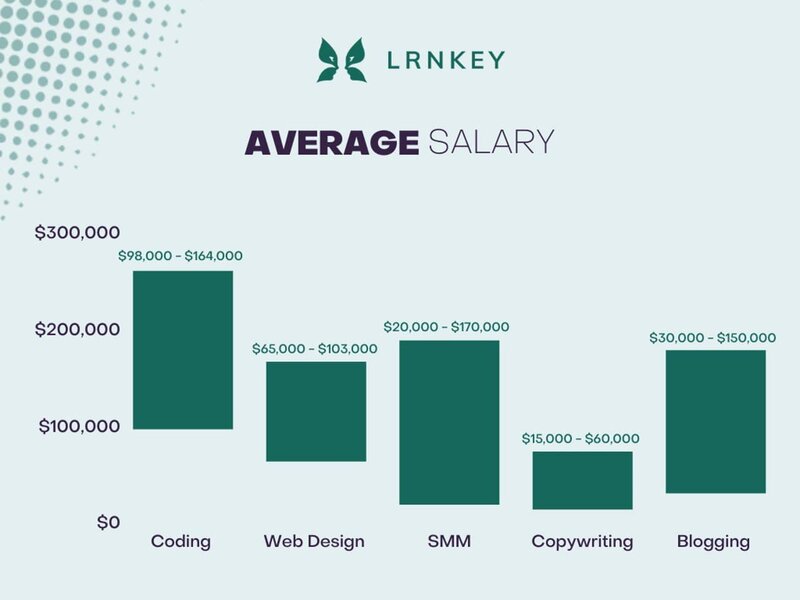 You might be at a crossroads on what are the best high-income skills to learn at home or online? You can use all of the careers mentioned below as an entrepreneur. The higher income skills that were mentioned in the article, can help with advancing a career and your earnings.
Coding - $98,000 - 164,000
This is a skill you can learn from the comfort of your home. You can make money from learning a language and teaching it to another student! You can also learn this high-income skill by learning how to code on your own time. The best way to learn to code is to study and immediately apply the skillset from a live instructor or to take an online class. You do not need to commit to a degree to learn the content. Just the drive tolearn. Languages such as C, C++, Ruby, Python, and Java are all languages that will help jumpstart your career! You can choose to work from home, meet new people, and build credentials. You can also become a freelancer and charge what you feel is optimum for the project being presented to you. Things you would need to do on the job would be, set up intranets, installing and configuring computer systems at a home or office, supervising and coordinating the maintenance of a new system, maintenance of network security, and developing new hardware and software for computer systems.
Some jobs you can use with coding are web development and information technology. You can also take advantage of learning new languages with a tutor today!
SEO - $75,000 - 125,000$
Search Engine Optimization or SEO is a great career choice if you're interested in marketing in general, are digitally savvy, and are fluent on the web. The results of your work as an SEO specialist will largely depend on competition and the right approach to the tasks at hand. As in many other areas related to Information Technology and the Internet, it will be extremely important to constantly update your knowledge, develop and devote enough time to get acquainted with the news and the latest trends. If you take a close look at SEO as an industry, you will quickly see that it employs many successful professionals from all walks of life. It doesn't seem to matter much whether you studied marketing, English, law, science, or engineering at university. This is a high income skill you can learn during quarantine to make money. As long as you have the skills and experience, your academic background is usually not the main criterion for success in search engine optimization.
Web Design - $65,000 - 103,000
If you are an individual with creative skills, web design might be just for you! Web designers create appealing websites that work! They primarily focus on organizing information on a web page and making sure the design/layout of the content flow well on the page. They also help with the user experience so individuals can continue to use the web pages. They help with establishing company brands online by using specific colors, fonts, and even graphics! Photoshop is heavily used since this software helps with enhancing photo colors and designs of art. Language such as HTML, CSS, and Javascript are all used to help build and maintain websites. Web designers also help websites to be mobile compatible. Being a web designer can be self-taught. If you're looking for the easiest high income skill, you can find a tutor for coding languages to help achieve this goal!
Social Media Management - $20,000 - 150,000
If you love to talk to others and find out what are the hottest trends and the best memes or business tips, then social media is for you. You might be asking yourself, I need an income from home. Can I use this skill for this? This is also a high income skill you can learn independently. Simply open a social media account, look at what others are posting and create your own content. You can also manage others' social media pages such as creating and distributing content, scheduling content, and analyzing post trends. Being able to communicate this to brands can allow them to make informed decisions about when to run a campaign or if they need to hire additional people to promote their brand products or services. Managing this will allow you to network with people from all industries, but also learn about the psychology of what people like and how to drive traffic to a post or edit video. This is a money skill since many companies seek people out with this top high-income skill. Some social media platforms that social media management may focus on are Twitter, YouTube, Facebook, Instagram and TikTok.You can also learn more about becoming a social media manager by going on the online learning platform, Lrnkey!
Copywriting - $500- $20,000 per project
This is the most valuable skill to learn. Copywriting. You can write pretty much about anything. You can gain a job from this remotely or you can As a copywriter you simply have access to typing software such as google docs or Microsoft Word and the internet. Nowadays you can do copywriting within any field, you can create sales copy, become a writer or a ghostwriter, translate books or videos, and more! This high income skill will help generate a lot of money since you can bring this skill anywhere. write only posts based on social media responses or you can create copy for brands' websites and advertisements. This is a goldmine. Anyone from any industry can learn this high-income skill. If you are a social studies teacher, mathematics professor, or a finance major in school, you can write articles about the very subject you are skilled at. You don't even need to attend school for this income skill.
Blogging - $500-150,000 per project
This easy earning income skill can be self-taught and is a high-income skill you can learn for free. Blogging is writing and regularly publishing various types of articles on a website. The requirements are to have a computer, but it was originally designed for individuals who wanted to share their thoughts with others. You also need to open a blogging account. This can be on a free WordPress or Wix website. The skills that you can learn to become a blogger are simple.
Study blogging formats, creating various types of attractive posts customers like and it does have quick high income skills to learn to make money. Blogging does not require you to attend school. Simply love writing and spreading your message to the public. That's all. When you become a blogger, you also become a freelancer, you can learn topics through keyword searches, popular keywords, write about the things you like, and want to learn more about, and that you are knowledgeable about. You can write about topics that interest you and why you want to learn more. You can even get feedback from friends and family about what they would like you to write. You can even find products to sell, and people can buy them online! It is a lucrative income that you can make for yourself or for a brand. Either way, you get the opportunity to grow your high income skills and your income at home!
Product Management- $116,000 - 215,000
If you are an engineer then try Product management, as it is one of a business's most essential aspects, and Product managers are one of the industry's most handsomely paid professionals. It has been a popular career choice for software engineers and it is expected to be more in demand in the coming years. As the world becomes more complex and the technologies we use become more advanced, companies will need product managers to help them navigate these waters.
Product manager salary touched an all-time high by the end of 2022, and this surge is nowhere to stop as it continues to grow by leaps and bounds even in 2023.
So, If you have problem-solving skills and look at things from a wholesome perspective, now is the best time to take a big leap in this ever-lucrative field.
Find a tutor for this topic
Which skill is the best for earning money, and is it easy to learn?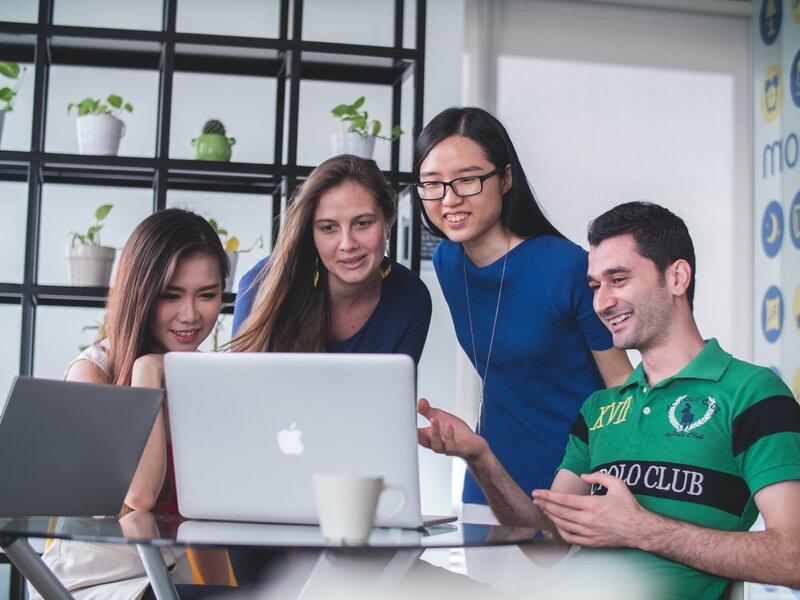 There are several skills that are best suited for earning money. However, these are some of the most difficult to learn. By concentrating on your strengths and interests, you can build on your abilities, and later this will become a skill and a new career.
Computer programming is among the highest-paying professions. Developing this skill can be challenging, and you may need a considerable amount of time to practice. Having a good understanding of mathematics is a prerequisite for mastering this skill, and you will also require special training. In addition to free online courses, you can also purchase paid online courses and receive one-on-one tutoring services.
Computer programming is indeed one of the most challenging skills to master. However, if you are ambitious and motivated to learn, you will be able to master this skill in a short period of time and begin earning a large sum of money very quickly.
Is there a skill that someone can learn for three to six months?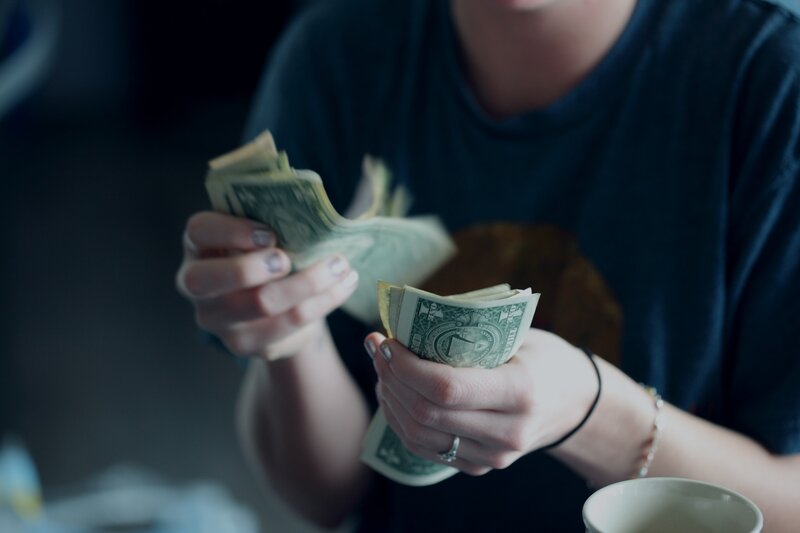 The answer is YES. Scientists from the Higher School of Economics have issued a forecast - in the very near future, a person will have to master at least 7-8 professions in his life. Is it a lot? Probably. What if we start right now? What is offered on the market today for adults who want to learn something new, fast and in demand? Here are some examples of good skills that can be learned online:
This is probably one of the most useful and high income skills you can learn in three months. You don't have to be a programmer or dream of becoming one to dare to write your first code. The chances of professional growth will increase, regardless of the field of activity, if you master the basic programming skills. The ability to write code will increase efficiency in performing daily tasks. For example, you can automate repetitive actions that you perform on your computer.
If you are planning to master a new specialty, try to take the first steps in web development. A month of intense study will be enough to learn the basics and lay out your first website. Then you can move on to the level of creating interactive web pages, which will greatly increase your level as a novice web developer.
Blockchain is a high-incomeskillthatcanhelpyoumakemoney. Withblockchain, youcancreateandmanagedigitalcurrencies, as well as createandmanagesmartcontracts. Youcanalsouseblockchain to createandmanagedecentralizedapplications. Withtheseskills, youcanearn a highincome by workingforcompaniesthatuseblockchain or by creatingyourownblockchain-basedbusinesses. If you'relooking to make some extraincomeand buy USDT, then consider acquiring some blockchain skills. By learning how to use and develop blockchain technology, you can position yourself to take advantage of numerous opportunities in the growing digital economy. With blockchain skills, you can earn income through consulting, freelance work, or even by developing your own blockchain-based applications. So if you're looking to make some money, consider acquiring some blockchain skills.
The ability to use graphic editors will be useful in professional development, especially if you work in the creative industries, this high income skill will bring you closer to the desired change in activity or help you create something new. In three months, it is really possible to master one of the graphic editors at a basic level.
If you're into photography, learn how to edit your photos. Master color correction, retouching or creating collages.
You can try your hand at layout printing or creating web page layouts. In three months, you will learn basic concepts such as gridding, typography, color theory and create your first works.
Artists should break away from the real canvas and learn to create on the virtual. In three months, you will master the tools of graphic editors and create vector and raster images, which will be the first steps in printing or the web.
The ability to edit video is useful both for the production of commercial products and for creating creative projects, amateur videos. In three months, you can learn how to cut bad shots, create transitions between scenes, edit light and color, add artistic video effects, titles, and work with sound. If you are not sure that you can handle this high income skill on your own, pick up video editing courses that will explain the basics of working in video editing programs, talk about video formats, introduce you to the theory of editing using real examples and help you practice your knowledge in practice.
We have already experienced a boom in mass production and industrial but personalized items. It's time to go back to basics and create a unique object with your own hands. Let the first items almost always look not very attractive, but their imperfection will only emphasize the uniqueness, and in the future will set off your progress.
You always wanted to draw, but it remained a dream. It's never too late to start. In three months, you can go a long way: from a graphic still life to a colored landscape, made, for example, in watercolor.
Can't resist a new shower gel or bubble bath. Learn to create them yourself. Start with soap, the options for configurations, colors and smells are not limited, which means that there will be room for imagination. Then you can expand your skills indefinitely by creating shower gels or bath bombs.
There are many other high income skills and professions that can be acquired and practiced in a short period, such as three to six months.
Social Media Marketing
Content Writing
SEO
SEM
A second consideration is that if you possess one of these high income skills, you may be able to become a freelancer. It is common for companies to hire people without setting standard hours for their workers. Therefore, freelancing even with experiance, can be an excellent option for students, individuals with one or more jobs, or for those who would like to travel whenever possible and work whenever they are able.
Is there a skill that a person can acquire quickly to begin earning money?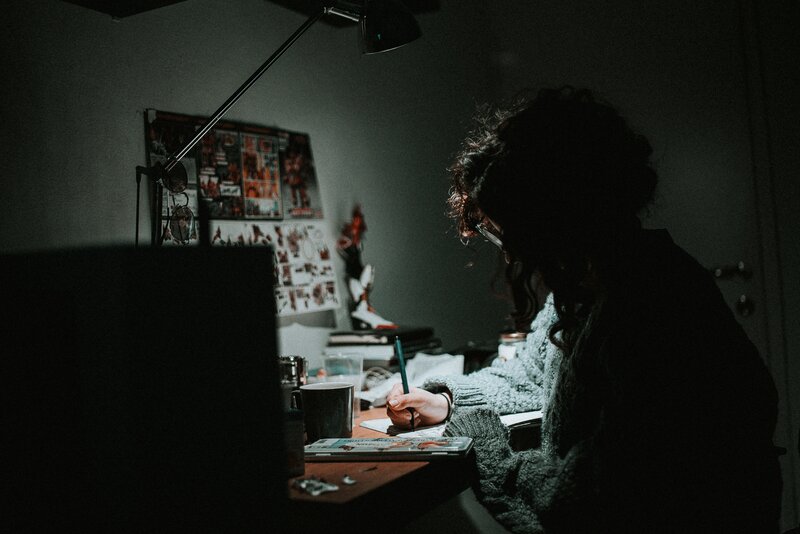 Among the skills that can be learned very quickly are crocheting and knitting. You can also use ribbon yarn to create unique crafts. It is something that many people already know from an early age, but they do not know that they can make money from it. However, if you are unfamiliar with the subject, you can quickly learn it through the internet.
It is not difficult to find an online workplace that hires people with your skills after learning the skills. In small businesses like these, orders are typically taken and distributed equally among the workers. Since all of these works are considered to be handcrafted products, they are pretty expensive. It is primarily for this reason that you can make a good profit from the business.
If you do not wish to work for someone else, you can open your own business. There are numerous small businesses that are very profitable. You simply need to market your products on social media and appeal to new customers to buy them.
To Sum
Professions that can be automated thanks to robotization will lose their relevance: now bots are taking over the positions of call center operators, and self-service checkouts are replacing cashiers in supermarkets. Experts predict that "machines" will replace other specialists in the near future. Soon on the Internet, we will not find vacancies related to routine manual labor - a decrease in demand will occur, including for the services of bank tellers and librarians.
On the other hand, opportunities in the labor market open up new industries. Previously non-existent professions appear the producer of videos on TikTok and assessors (the so-called workers who evaluate how search results match query parameters) are in demand and now considered as high income skill. Influencers will not disappear anywhere in the near future, although their incomes have begun to fall sharply. Bloggers will have to adapt to changes in social media algorithms.
The development will receive the direction of ESG (Environmental Social Governance), or, as it is also called, environmental, social, and corporate governance.
The closure of borders and lockdown gave a strong impetus to the development of online commerce. The number of online retailers has grown significantly on marketplaces, both individual sellers and large companies. Accordingly, in 2022 specialists in working with marketplaces and experts in the field of online sales will be on the list of high-income skills.
In 2022 professions related to the design of virtual worlds and augmented reality will also develop actively. Moreover, virtual reality is another platform through which brands can interact with their audience.
It is not necessary to delve into the traditional IT sphere to find high-income skills. In the future, specialists in related fields will also be in demand, for example, NFT platform developers, bioengineers, data scientists, and online teachers who can conduct lessons from anywhere in the world.
In this era of change, you should find the high-income skill that is close to your heart and deepen in that area. That way we will keep pace with the times.