Wouldn't it be great to know how to make a centrepiece for your next dinner party? A well-planned centrepiece can elevate your entire room and make your home feel instantly festive and happy. Be it flowers, fruits, or just plants, centrepieces are incredibly attractive and inviting.
There are a few simple steps while learning how to make a centrepiece. You need to plan out your entire project, gather all your supplies, and choose the technique you find the easiest. Try making silk or a real rose topiary if you are thinking of making a dome-shaped centrepiece. Candles and themed centrepieces also look good at your centre table.
Centrepieces don't always have to be too complicated or expensive. At times they can just be easy, fun, and stylish. Instead of looking for the perfect centrepiece for your table this holiday, you can make one of your own. Make your DIY centrepiece with readily available things available in your home or at your local craft store.
Making centrepieces can be a fun experience, especially when you do it with your family. Once you learn how to make a centrepiece, you'll be able to create a variety of pieces to suit any occasion. Whether you plan a get-together with friends or host a holiday meal, you can create a beautiful centrepiece without much effort.
So, let's dive in and learn how to make a centrepiece.
Planning Out Your centrepiece
Before you can start decorating your table with a piece, you need to plan out your project. You will need to figure out which type of centrepiece you want for your room. If you are decorating it for a holiday, you can go with a floral or a candle decoration. They usually match and alleviate the aesthetic of your room.
You can also go with a themed centrepiece for different holidays and festivals. You can create a fruit centrepiece with candles for your seasonal decorations.
No matter which type of centrepieces you want, planning it out in your mind will help you gather the right supplies. When learning how to make a centrepiece, you need to be creative with your decorating style and ideas. Knowing the colour theme that looks best in your dining space will help you set your decorative items in a more visually pleasing way.
Centrepiece Making Techniques
Once you've planned your project and gathered all supplies, it's time to learn the different ways you can decorate your centrepieces. This section of how to make a centrepiece will discuss the easiest ways to make a decorative piece for your home.
Making a Silk Rose Topiary
Roses are a great addition to the table, irrespective of the occasion. They elevate your room, and with a silk rose topiary, you don't have to worry about watering them every day. You will need a Styrofoam ball, glue gun and a bunch of silk roses. You'll also need a candlestick and a pair of wire cutters to get started.
This section of how to make a centrepiece will discuss an exciting way of decorating your home. Follow these steps to make silk rose DIY centrepiece:
Place the candlestick and the Styrofoam ball on your workstation. With the help of a glue gun, cover the top of the candlestick with hot glue. Quickly press the Styrofoam ball into the glue. While you can choose any size you like, it would be ideal if your Styrofoam ball is around 5 inches. Always remember to keep the ball proportionate to the candlestick. The smaller the ball, the shorter your stick should be.
While the glue is drying out, it is time for you to prepare your silk flowers. With the help of a wire cutter, trim the stems of each rose. A 2-inch-long stem would be perfect for your centrepiece.
Now it's time to add the roses to your Styrofoam base. Poke a rose into the top of a Styrofoam ball. Make sure it's not loose, and the bottom of the rose is touching the ball. You can add a drop of glue into the hole and push the rose back in to ensure it isn't loose.
Keep adding more roses in a ring. Make sure that they touch one another, including the one in the centre. If your roses feel loose, you can secure them with a drop of hot glue.
Continue adding roses until you reach the bottom of the ball. When you are done, the entire ball should be filled with roses. There shouldn't be any gaps of Styrofoam showing out.
For the final touch, take a large piece of floral ribbon and tie it as a bow around the candlestick.
Find a tutor for this topic
Making a Real Rose Topiary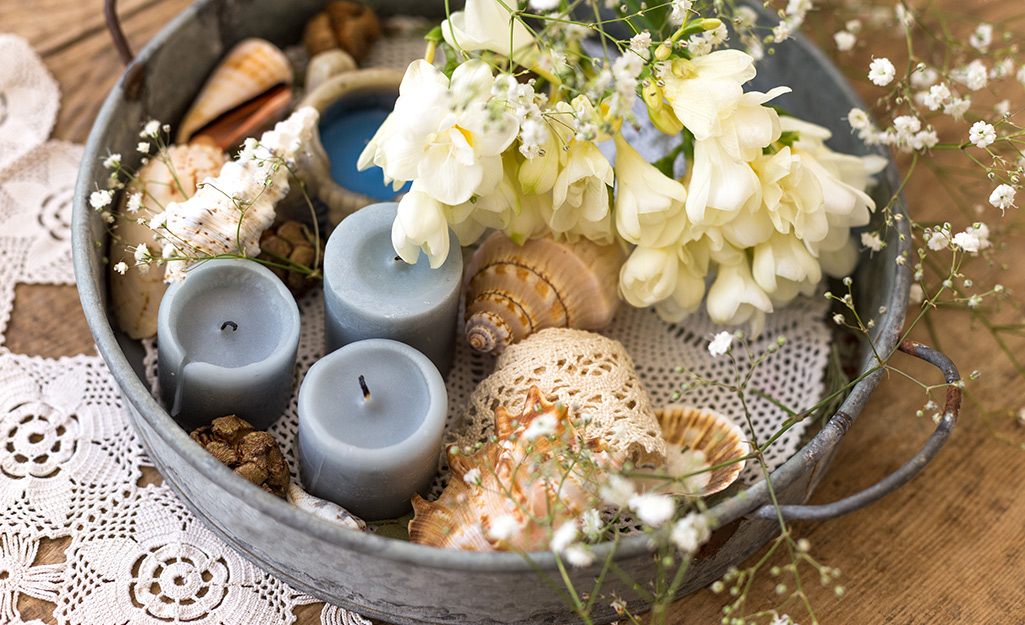 There is nothing more fascinating than a blossoming rose. They fit perfectly for all occasions and holiday decorations. To create a real rose topiary, you will need aqua foam, garden shears, and a bunch of fresh roses. This section of how to make a centerpiece will discuss an exciting way of decorating your home.
Take a block of aqua foam and soak it in cold water overnight. This will keep your flowers fresh for a longer time. Be careful while handling this foam, as it is very soft when dry and can be easily dented.
Now it's time to get our fresh roses. You can buy a bunch of roses and put them in a bucket of cold water to keep them fresh. You can also choose to purchase fragrant roses as they add a nice touch to your centerpiece.
Once your foam has soaked up enough water, it is time to set it in your vessel. Using a pedestal, you can cut your foam in a rough dome shape.
With the help of garden shears, cut the thorns and leaves of the rose flowers. Cut the stem down to three inches at an angle of 45 degrees. This will help the flowers to soak up more water and stay fresh for a longer time.
Now start poking the flowers to your aqua foam and decorate your centerpiece. You should start from the top of your foam and insert flowers close enough to touch one another. You can also stick them at different depths to create a dome-type effect. If you are going for an ombre effect, you should start with the lightest color and move to the darkest.
Once you are done decorating your flowers and no section of aqua foam is visible, it's time to add finishing touches. You can take a large piece of floral ribbon and tie it around the vase.
Making a Candle Centrepiece
Candles change the aura of the room and lighten it up. Creating a candle centerpiece will make your room look a little classier and more elegant. It is the perfect setup for events and holidays. Here are a few candle setups you can try out while learning how to make a centerpiece.
Choose Candles of Different Sizes or Colours
To create a unique look for your table, you can choose different-sized candles and place them in an aesthetically pleasing manner. Or you can select a uniform look with different coloured candles. It all depends upon your mood and the event.
When choosing colourful candles, try and decide the overall theme of your room. Picking candles out randomly might lead to wastage. Think about which colours will work together and complement each other.
The setting of your table will also vary from the type of candles you choose. If you want your candles to sit high on the table, you should purchase tall and thin candles. If you prefer them to sit low on the table, you should buy short and wide candles.
Picking Out Candle Holders
Candle holders give an antique and rustic feel to your house. If you are trying to go with this look, you should buy candle holders from a vintage or a thrift store. Choose the holder that will best complement your candles. You can also choose to customize your candle holder by wrapping it into tulle or lace. This is an exciting way to decorate your home while learning how to make a centrepiece.
Setting Up a Floating Candle Centrepiece
With a floating candle arrangement, you will be able to incorporate both flowers and candles into your centrepiece. For this, you will need a wide container, a bunch of fresh flowers, food colouring, and floating candles. This section of how to make a centrepiece will discuss a unique way of decorating your home.
Use a wide and short container to fit enough candles and flowers for your centrepiece.
Now add a few drops of your favourite food colouring to the bowl. Add cold water to the bowl and mix the colour well.
With the help of garden shears, carefully cut the stem off of the flower. You need to focus more on the buds.
Trimthestems so thatonly an inch of them is leftattached to theflower. Flowerslikeroses, lilies, or orchidsarethebestoptionsforthiscentrepiecearrangement.
Add the flowers to the bowl and spread them out evenly.
Now add the floating candles to the water, around the flowers. These exceptional candles can be used in or near water and burn for several hours. When your guests are about to arrive, you can light your candles to give them a more welcoming feel.
Making a Themed Centrepiece
Themed centrepieces can help you alleviate the mood of your house. Before you can learn how to make a centrepiece, you need to plan out the theme for your home. For instance, if you are decorating your house for Christmas, you can choose a simple red, green, and white colour theme. You can then add elements to your centrepiece accordingly. You can mix flowers, candles, or vases while making a themed centrepiece for your house.
Here are a few themed setups you can try out while learning how to make a centrepiece.
Choose a Certain Style or Period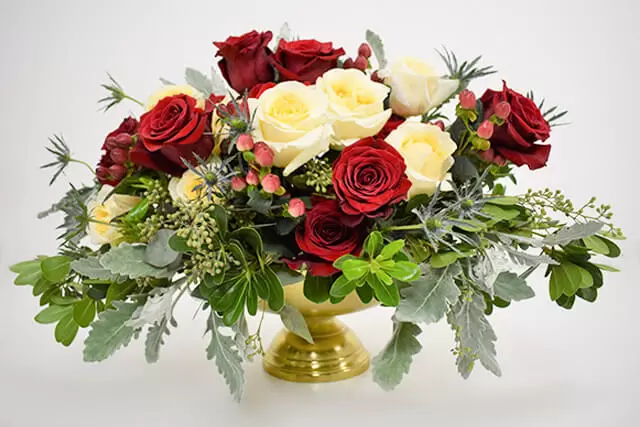 Building a centrepiece based on a specific period is a great way to give a unique twist to your holiday decorations. Here are a few period ideas you can focus on while learning how to make a centrepiece.
Hollywood Heyday: You can make a centrepiece inspired by old Hollywood movies. The first thing that comes to mind when we think about the 50s and the 60s is fur. You can use orchids or lilies, drop them in a bottle of champagne, and add some candles around it. Hold the entire centrepiece together with a fur bow.
Renaissance Revival: You can make a centrepiece inspired by the era of cultural revival. Add beautiful silk pieces and other rich fabrics with bright coloured flowers like orchids.
Victorian Invasion: Making a Victorian-themed centrepiece requires a lot of silverware, dainty fine China, and vivid floral pieces. This centrepiece would personify a classic English garden.
Making Pieces Based on Books or TV shows
Creating centrepieces for your home based on TV shows is another great idea to give a unique twist to your centrepieces. Here are a few ideas you can include while learning how to make a centrepiece based on books or TV shows.
The Great Gatsby: The Great Gatsby is a classic movie that you can take inspiration from while making your centrepiece. You can use the book's famous yellow and blue colour palette for your floral arrangements. You can also decorate the vessel with gold spiral and white feathers.
Harry Potter: Creating a centrepiece based on the Harry Potter series can be pretty interesting. You can make a badge of your favourite house and glue it to a white vessel. You can also use white roses to decorate the vessel and add a white owl and a magic wand.
Game of Thrones: If you are a fan of this epic fantasy TV show, you can choose the floral arrangements based on colours. You can associate them with the five noble houses of the realm. And you can decorate your vessel with scale-shaped sequins representing the skin of a dragon. Giving it a final touch with a golden silk bow will provide it with the royal touch.
Choosing a Colour Scheme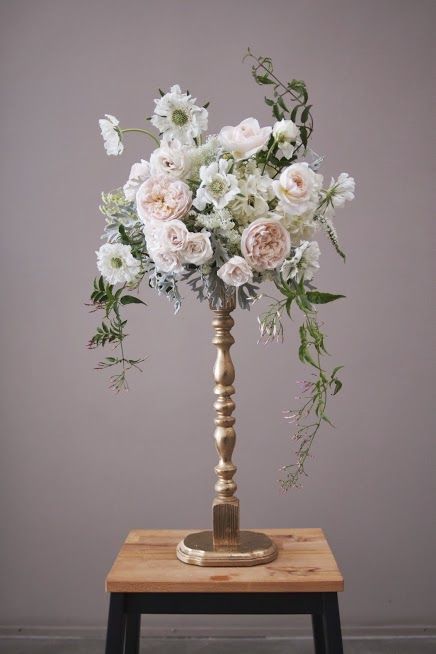 Choosing a colour scheme is one of the most straightforward and aesthetically pleasing ways to create a centrepiece. You can select the scheme for all the decorations in your house and make your piece the central attraction. You can choose an anchor colour and then mix it up with shades and tones of complementary colours. This can help you make beautiful items while learning how to make a centrepiece.
Some of the popular festive colour schemes are
Red, pink, and white
Golden and green
Teal and yellow
Pink and chocolate brown
A neutral hue with a bright complementary colour
Takeaway
Learning how to make a centrepiece is a great DIY activity to mix your skills with your creativity. If you want to learn a little more about making centrepieces, you can take a 1:1 lesson from an online tutor. They will help you understand all the basic techniques, along with the tips and tricks to kick up your creativity.
Lrnkey, an online tutoring platform, offers online tutorials for beginners and advanced DIY enthusiasts. These one-on-one lessons hosted by expert tutors help you learn everything there is to be decorating a centrepiece for your home.
While making a centrepiece, you might need a little inspiration decorating it. You can scroll through social media applications like Pinterest and Instagram and connect with DIY experts from all around the world. When you learn how to make a centrepiece, you can take inspiration from them and make tweaks to your decoration.
FAQ
How do you make a simple centrepiece?
To make a simple centrepiece find some flowers, fake or real, a vase, and some beautiful ribbon. You can place the flowers in the vase and tie the ribbon around it for a quick, simple centrepiece.
How do you make a centrepiece for a table?
To make a centrepiece for a table, find a beautiful bowl or tray, some natural elements like twigs, flowers, and fruits, and candles. Arrange the items within the container in a beautiful way, being careful that any leaves or flammables are out of the way of the candle. Once you light the candle, you'll have a warm, natural-looking table centrepiece.
What do you use to make a centrepiece?
To make a centrepiece you'll need a container to hold the elements together such as a vase or a bowl. Next you'll need something natural to make the centrepiece look nice like flowers, leaves, berries, fruits, or twigs. You may also want candles in your centrepiece to provide a warm atmosphere around your table. Finally, you'll want to tie it all together with decorative elements like ribbon.
How many flowers do you need for a centrepiece?
To make a small centrepiece you'll need approximately six flowers. For larger centrepieces, you can use up to fifteen in addition to smaller filler flowers such as baby's breath or foliage.
How long does it take to make a centrepiece?
It only takes a few moments to make a centrepiece. Once you have your supplies gathered and your design planned. Putting the items together takes maybe five minutes. It may take longer if you are gluing items in place, then you should allow for some drying time.