Knowing the best origami for beginners can make the hobby a lot more enjoyable when you're just starting out.
Origami is a favored hobby for children, teenagers, and adults. It's a fun way to tap into your creativity, relax, and build problem-solving skills. It can be an enjoyable activity to do solo or with a group. You can use the paper models you create for decoration, gifts, or practical purposes, such as holding your business cards.
With over a dozen origami projects to make, it's hard to know where to start. That's why we put together this guide about the best origami for beginners.
You'll find everything you need to know to become an origami pro. Let's dive right in!
A Brief History of Origami
Before looking at the best origami for beginners, let's briefly explore the origins of the paper folding technique.
Recreational folding dates back centuries. It began with other materials like cloth before the papermaking process used today was developed.
According to studies, the Japanese invented origami. However, the consensus is it was invented in China around 105 A.D.
Once paper arrived in Japan in the sixth century, it became far superior to anything the Chinese had developed. The new enhancements made it possible to fold paper, making it ideal for origami.
While paper folding is common in other cultures, the Japanese discovered people could use it as an artistic medium. This, however, was reserved for the elite for some time.
Folded pieces of paper accompanying a gift were known as Tsuki. Other ceremonial paper folding includes Noshi, folded paper gifts that express "good wishes". And Origami butterflies were used to represent the bride and groom at Shinto weddings.
Before 1880, origami was known as orikata, which means "folded shapes" in Japanese. Origami originates from two Japanese words, oru and kami, meaning "to fold" and "paper".
The reason it got this name is unknown to historians. However, it's suggested that origami was easier for young children to write.
Today, origami is not only a favoured art form in Japan. Many people around the world enjoy making origami as well.
The classic designs of the past have given way to more intricate designs and new techniques, such as wet-folding. This involves soaking the paper so it holds its shape better once dried.
Recommended Supplies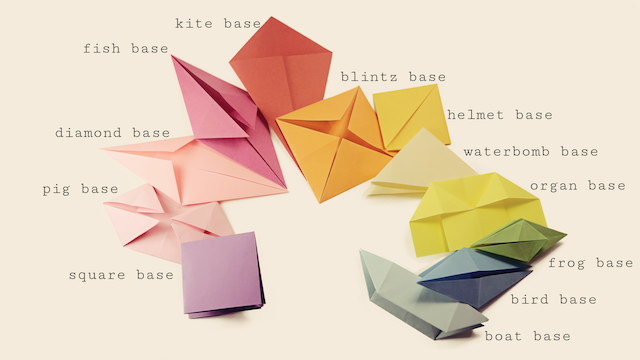 The great thing about origami is that you can make it with any kind of paper and limited supplies. However, having special paper designed for origami folding can make your folding experience more manageable. To create the best origami for beginners, we suggest using the following paper:
Plain origami paper - This is great for practicing. It's colored on one side and white on the other. The result is a bold, definitive form that clearly displays each fold.
Chiyogami origami paper - This special paper features patterns and designs from Japan's Edo period, between 1603 and 1867. It's thinner than regular paper, meaning it's more malleable. This is the best paper to use if you're making origami cranes.
3″ origami paper: You can use this paper to make smaller origami models. It's very easy to fold and form making it perfect for intricate work.
Handmade origami paper: Creations that are more special fit well with this paper. It's slightly translucent, and you can achieve softer folds.
esides paper, you'll need scissors. Although traditional origami doesn't involve cutting, some modern designs require it. Designs that involve cutting are referred to as kirigami.
Having a ruler (both short and long) and a pencil on hand is also great for making accurate measurements. Besides these supplies, glue is necessary for some designs, such as origami flowers. And although not required, a cutting mat is ideal for protecting surfaces like countertops and tables during DIY projects.
Best Origami for Beginners
Following written step-by-step instructions or attending an online lesson are two ways to learn the best origami for beginners. On Lrnkey, you can learn various skills from the comfort of your home, including origami. An online tutor can walk you through the steps in a private, 1:1 lesson.
You might aspire to create an origami crane or an origami heart. As a newbie, it's essential to start with the basics, no matter what model you have in mind. Knowing the different bases and folds can make creating models a lot easier.
Origami Bases
Before getting into the models you can build, let's look at the different origami bases. These are used to start most models and make a complicated design easier to create.
Using a base reduces the time it takes to create a model. Additionally, you can also skip most instructions in an online tutorial if you're familiar with how to make the base.
These are the different bases:
Square base: This is one of the most common bases in the art of paper folding that people use to create many models. It's also referred to as a preliminary base for obvious reasons.
Bird base: It's the ideal base for origami birds, including the famous paper crane. But it's also a common base used to create other models.
Kite base: This kite-shaped base is the simplest in origami. Due to its simple design, this base is also a fairly common one.
Frog base: As the name suggests, this base is used to create an origami frog. Of all the traditional origami bases, it's the most difficult to make.
Fish base: This is the base most commonly used when making the traditional origami fish.
Waterbomb base: It's a base used to fold the traditional origami waterbomb. And it's also often used in conjunction with other models.
Some of the best origami for beginners begin with these bases. You can always forgo starting with a base to take the scenic route when creating a model. Making origami will still be a fun and relaxing activity.
Common Origami Folds
Now that you know the types of bases let's look at the basic origami folds. Knowing these folds is the first step in making the best origami for beginners. These include:
Rabbit ear fold: This fold creates a flap in the paper that resembles a rabbit's ear.
Pleat: It's a simple fold that involves creating a pleat in the paper.
Inside reverse fold: This is used in most origami models. The paper is folded inside the model.
Outside reverse fold: The fold is the opposite of the inside reverse fold.
Petal fold: A common fold of the bird base.
Bases and folds are crucial for beginners because they bring you closer to mastering models. Also, some of the best origami for beginners is less complicated once you learn the standard folds and bases.
Find a tutor for this topic
12 Origami Projects for Beginners
There are several options when it comes to the best origami for beginners. We've curated a list of easy-to-learn and beginner-friendly models you can start making today. Remember, if you ever need help, you can always take online lessons.
Paper Plane
If you weren't aware paper planes were origami, you aren't alone. This simple project is the best origami for beginners. It makes for a fun and exciting activity for kids, during the creation and once completed.
There are several ways to fold a paper plane. Each fold influences the design and can also change the flight pattern. Once you go over the instructions a few times, it's easy to replicate the model without a guide.
Origami Crane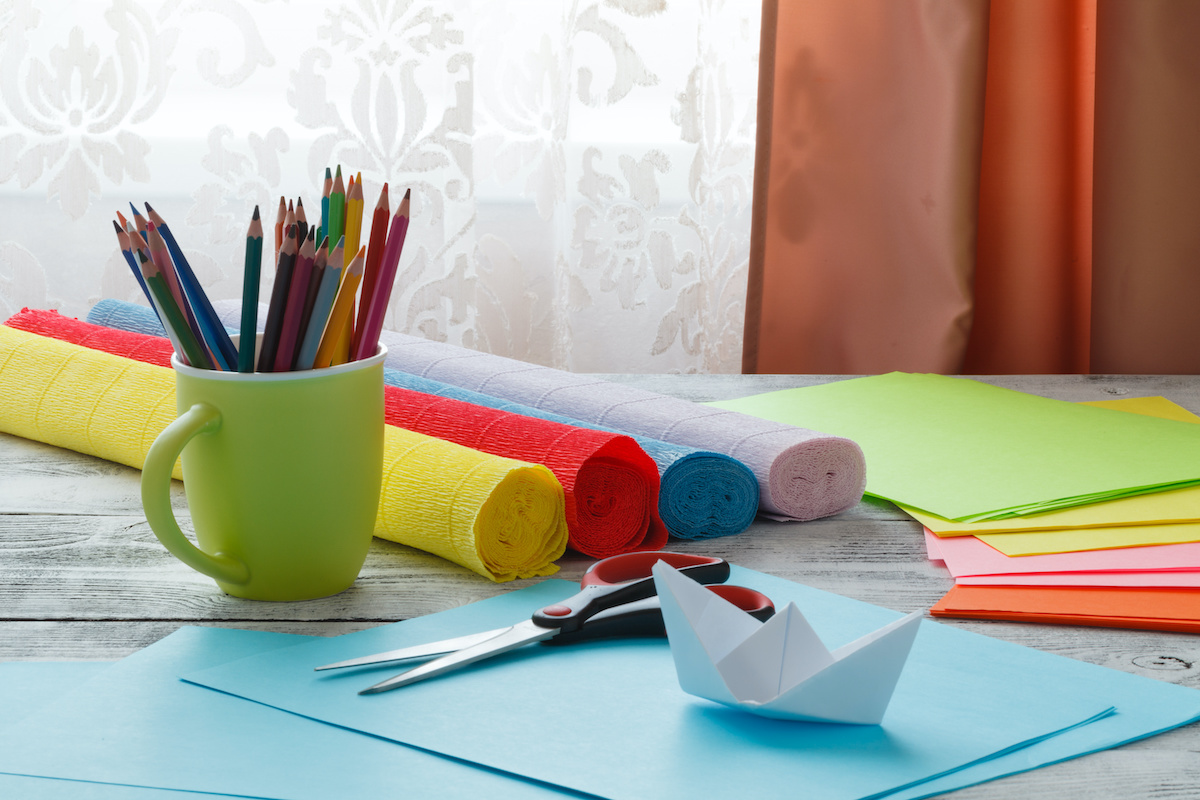 The origami crane is a popular model that gained fame from an ancient Japanese legend. It states that anyone who folds a thousand paper cranes will be granted one wish.
This is the best origami for beginners because of the chance of a wish and its simplicity. It uses a bird base, and the steps are easy to follow.
Boat
A boat is another one of the best origami for beginners. This model can be an entertaining toy for children. Since it can float on water, create several to put in your child's bathtub.
The best way to waterproof origami boats is by using clear nail polish, wax, or simply use water-resistant paper. This way, you can reuse your origami boats.
Origami boats can also be used for celebrations. You can create birthday cards and party and table decorations or use them to celebrate a newborn.
Alternatively, you can create an origami boat mobile with clouds to decorate a nursery.
Fan
This model is one of the best origami for beginners because it takes the least time to create. And it's super practical too. You can use origami fans as decorations for a party or a wedding.
It requires scissors, and you'll use a pleat fold. If you want to make an extra special gift for someone, use chiyogami origami paper.
Heart Bookmark

Avid and occasional readers alike can find an origami heart bookmark handy. This simple model is the best origami for beginners and all the anti-dog-earring book lovers out there.
Use patterned paper to make your creations extra special. And it can be a splendid gift for your best friend.
Cat
Cat lovers will love this model. It's the best origami for beginners to tap into their creativity when decorating.
The intricate design only takes a few minutes to replicate, and then you'll have a paper cat companion. You can go a step further by decorating your origami cat with gems and sequins.
Vase
If you're looking for something to spruce up your vases, origami might do the trick. To create an elegant, appealing look, you can pop your vase into a DIY origami vase.
You aren't limited to using them for flowers. An origami vase can also be used to store stationery or anything else that comes to mind.
This DIY project is the best origami for beginners trying something less traditional.
Origami Paper Cubes
This beginner-friendly origami is one of the most exciting projects. You make this intricate model from six different coloured or patterned origami papers.
Origami paper boxes are perfect for decorating, or you can use them for gifts.
Swan
A traditional Japanese swan is the best origami for beginners who've mastered the paper crane. It's easy to learn and uses simple folds, so it will only take you a few minutes to create.
We advise using paper with a pattern on one side and solid colour on the other. That way, you can create a prettier origami swan.
Envelope/Wallet
You can get so much use out of an origami envelope or wallet, such as storing receipts, cash, and coupons. It's also ideal for gifting to friends or family.
One highlight of this project is that it doesn't take long to make.
Business Cardholder
This is the best origami for beginners who want a practical project and something inexpensive to store their business cards. While origami business cardholders are more delicate than a store-bought case, they're easy to remake.
Tulip Flower and Stem
The last project on our list of the best origami for beginners is tulips.
Origami tulips are almost as stunning as the real thing. They're made of two parts: the bud and the stem. Therefore, you'll need two pieces of paper.
You can make several origami tulips and place them in a vase. It makes for a beautiful DIY origami flower arrangement that you can put on your work standing desk or around your home.
Conclusion
Paper folding has played a vital role in many people's lives over the millennia. Although it wasn't always that everyone could take part in the art of paper folding, today, almost anyone can.
You need the bare minimum to make origami. And at most, you will spend some money on special paper that makes folding easier. Otherwise, you won't have to make a significant investment in this hobby.
There are simple models you can put together that take little time. This includes the classic paper crane, origami paper cubes, an origami boat.
Remember, keep practicing, and you'll become an origami pro in no time.
On Lrnkey, you can connect with online tutors worldwide to learn unique skills, including origami.
FAQ
What is the easiest thing to make with origami?
The easiest thing to make with origami is a paper plane. We recommend starting with an origami paper plane first if you are a beginner because it only requires a few folds.
How do I start learning origami?
To start learning origami, simply read our tutorial to learn about 12 simple origami projects you can start right now. Or book a lesson with a tutor on Lrnkey and get live 1:1 assistance.
Is it easy to learn origami?
It is easy to learn origami. The easiest way to learn origami is by booking a live 1:1 lesson with a tutor in Lrnkey. They give you the best advice to help you make creative projects.
Can you use normal paper for origami?
You can use normal paper for origami, but for most origami projects you'll need to have a square piece of paper. So if you are using normal paper you may need to cut it into the right shape first.
Is origami a good hobby?
Origami is a good hobby to have if you enjoy being creative and learning new things. Origami takes a little patience to learn at first but you can begin with simple projects and increase the difficulty as you learn.