Have you ever wondered how to make earrings? It's okay to be a little obsessed with jewellery, especially the handcrafted ones. Making jewellery on your own can be a fun project if you like to wear customized ones. Earrings are one piece of jewellery that is noticed by everyone. So, why not make your own handcrafted earrings that suit your style and personality.
There are a few simple steps while learning how to make earrings. You just need to plan out your project, gather your supplies, and choose the technique you find the easiest. Try making beaded, polymer clay, or seashell earrings. Hot glue earrings can also bring a twist to your jewellery game. Quilling earrings are one of the simplest and the most creative ones.
Creating your own DIY earrings is not that difficult. Once you are familiar with the basic techniques, you can make jewellery from almost any decorative item, including beads or origami.
We have a brilliant guide on how to make earrings that will help you start your jewellery-making journey. We cover everything from planning out your project gathering your supplies to different ways you can create unique earrings.
So, let's dive in and learn how to make earrings.
Planning Out Your Project
Before you can start learning how to make earrings, you need to plan out the entire design in your mind. This will make it easier for you to craft pieces without getting too confused. You can also scroll social media websites such as Pinterest or Instagram and get inspired by designs of other jewellery makers.
Once you have a rough idea of your design, you can draw it out on a piece of paper. You can then note down all the supplies you will need for that particular project. This would make it easier to gather supplies without going too overboard.
Earring Making Techniques
Once you have planned out your earrings design, it's time to start making a beautiful pair of earrings for yourself. This section of how to make earrings will discuss interesting techniques of this DIY project.
Making Beaded Hoop Earrings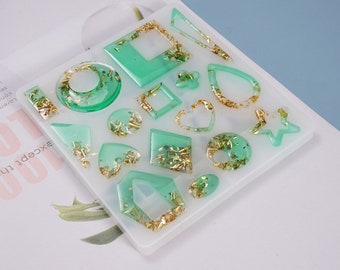 Hoop earrings are a trend that will be evergreen. Whether you're going on a lunch date with your girlfriends or a casual night out, earrings make your outfit stand out. For this DIY project, you will need a tube of memory wire and a bunch of your favourite beads. You'll also need French hook ear wires, a wire cutter, and round nose pliers.
It's now time to make hoop earrings in this section on how to make earrings.
For making the hoop for your earrings, cut one full circle from the memory wire using your wire cutters. You can also go for a smaller-sized hoop and snip off a section of wire based on your preference.
Using your round-nosed pliers, curl one edge of the wire underneath itself, making a small loop.
Start stringing beads to your earring. You can experiment with different colours and sizes of beads and make a pattern you like. You can make simple, wired hoops as well.
Once you are happy with the design of your hoop earring, take your nose pliers in your hand. Start curling the other edge of the wire outwards, making another loop.
Now hook the loop that's curled underneath with the one that is curled outwards. You can use your pliers to tighten each loop and secure them.
Once the loops are secured, it's now time to attach the French hook wire to your earring. Open the loop at the bottom and hook the ear wire with your pliers. Close the loop tightly with your pliers.
Repeat the same process to make the second earring. Remember to measure the second earring with the first one to ensure that they are the same size.
Making Polymer Clay Earrings
Polymer clay is a type of modelling clay that can make jewellery. You can easily create custom colours, sculpt them, and make designs the way you like. When you are learning how to make earrings, this technique can be pretty helpful.
While making polymer clay earrings, you will need polymer clay in your favourite colours, earring backs, jump rings, and super glue. You'll also need parchment paper, acrylic rolling pin, craft knife, baking sheet, toothpick, and jewellery pliers.
It's now time to make polymer clay earrings in this how-to make earrings section.
Place the ball of polymer clay on your workstation. Now roll out a medium-sized slab of polymer clay using a rolling pin.
With the help of a cookie cutter or a craft knife, cut out the desired shape of your earrings.
With the help of a textured tool or toothpicks, lightly press the radiating lines on the surface of the clay. Make sure that you don't push too deep, as it might weaken the base, and your clay will crack once baked.
Once you have created the design and cut out the shapes, you can smooth out the edges before baking.
With a sharp toothpick, poke holes on the upper part of your earrings to attach jump rings. Make sure that the holes are big enough and close to the edges.
Preheat your oven and prepare your polymer clay earrings for baking. Use a cotton swab dipped in alcohol to wipe off any dust particles from the surface. Layout parchment paper on a flat baking tray and place your earrings on the paper.
Once the oven has finished preheating, place the baking tray inside the oven and cover it with aluminium foil.
Bake them at 275 degrees for 30 minutes.
After your earrings have baked, take them out of the oven and let them cool.
If you think there are sharp or uneven edges, you can use sanding paper to smooth them out.
With the help of a plier, attach the jump rings and hooks to your earrings. Your polymer clay earrings are ready to flaunt.
Making Seashell Earrings
Seashells make a great addition to handcrafted earrings, especially scallop shells. They are perfect for a beachy or tropical outfit. While learning how to make earrings using a seashell, you will need beads, seashells, memory wire, jewellery pliers, and earring hooks.
Prepare your seashells by drilling small holes into the shell with a jewellery drilling machine.
Take a 3-inch long memory wire and insert it through the drilled hole on the seashell. Make sure that just 1 inch of the wire is inside the seashell.
Now bend the inner side of the wire outside and align it with the remaining wire.
Use a jewellery plier to twist both the strands and join them together. Make sure that you do it neatly and evenly.
Now string the beads of your choice through the memory wire, pushing them all the way near the shell.
Using a plier, hold the wire and make a small loop at the open end of the wire. Ensure that the loop is close to the beads you have attached.
Coil the remaining wire below the loop to secure the beading. Use a flat nose plier to flatten out the coiled wire.
Attach the hook to the loop to complete your earring. Repeat the same process to craft another earring and complete the pair.
Find a tutor for this topic
Making Boho Style Earrings
Boho-style earrings are statement pieces that will look great on bold outfits. While learning how to make earrings in boho style, you will need craft wire, pliers, beads, and a jewelry charm.
Make sure you plan out your earrings first and match your beads with the charm.
Take your memory wire and create a small loop at one end with the help of round-nose pliers. Now insert the bead into the memory wire. Cut off the other end by leaving a small amount of wire. Create another loop at the open end and secure the bead.
Repeat the same procedure for all your beads.
Add a jump ring to the loops made in your beads.
Most jewelry charms have loops at both ends. Connect your beads and charms with the help of jump rings and loops.
To complete your earring piece attach the hook to the top loop in your bead. Repeat the same process to craft another earring and complete the pair.
Making Hot Glue Earrings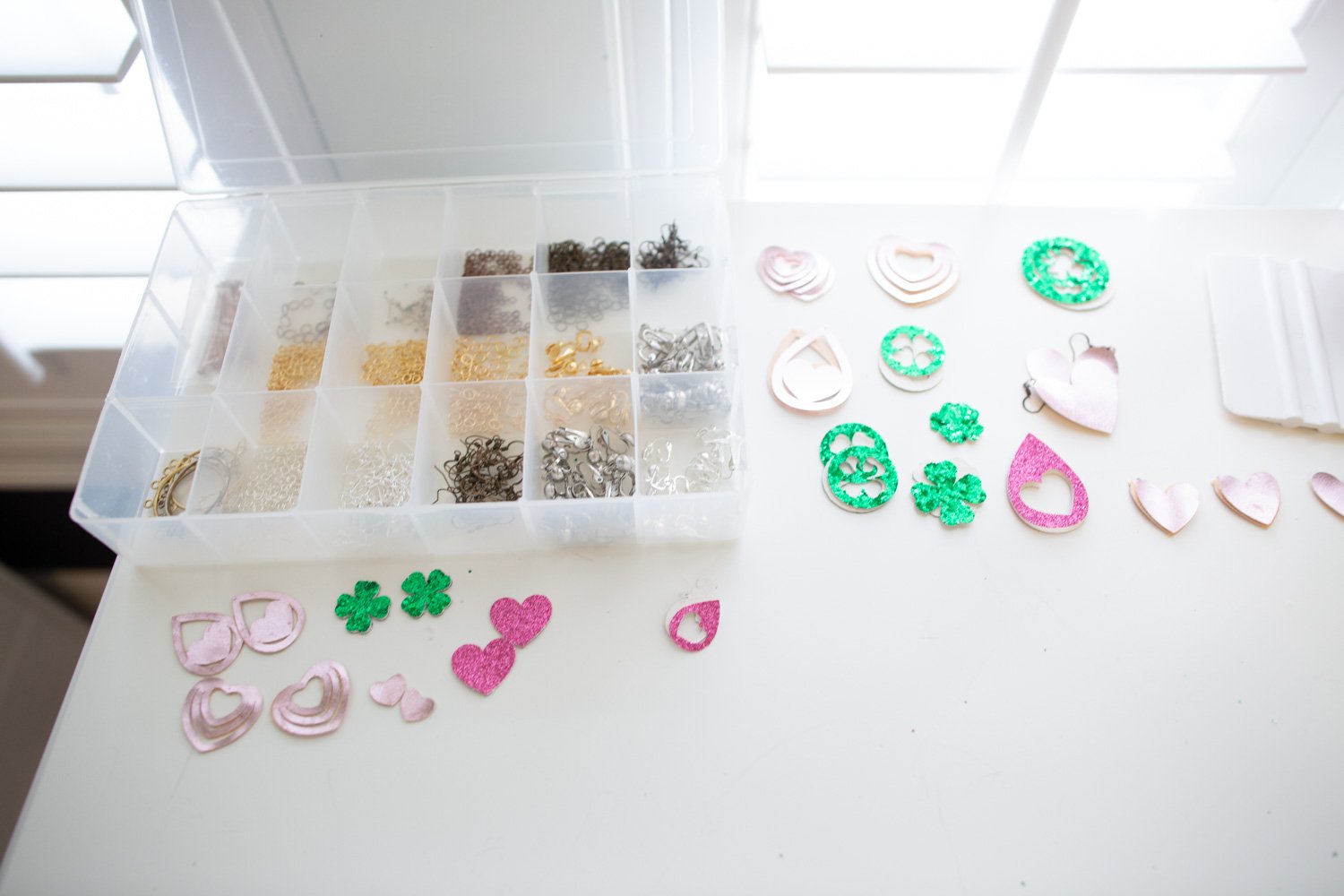 Creating hot glue earrings is a unique and easy way of creating customized pieces. While learning how to make earrings with hot glue, you will need a glue gun, glue sticks, and a silicone heat-safe mat. You'll also need gold spray paint, acrylic paint, gloss finish lacquer, jump rings, hooks, and a strong adhesive.
It is now time to make hot glue earrings in this section of how to make earrings.
Print out 1-inch circles on a sheet of paper. Place a silicone heat-safe mat over the paper.
Using these circles as a guide, place glue dots on the heat-safe mat. Make sure that the drops are not touching each other.
Let the dots cool before you join them. Otherwise, they will just glob together.
Once the hot glue has cooled down, spray paint the front and back of glue earrings with golden color. Allow them to dry completely.
Now you can use your acrylic paints to add a color of your choice. Make sure that it complements the golden colour. You will need to add at least two coats for your colour to stand out.
Add a layer of glossy lacquer to finish up your earrings.
Now attach a hook to the jump ring and simply glue it to the back of your earring design. Make sure that you use a strong adhesive. Once the glue dries out, they are ready to wear and show off.
Making Feather Earrings
Feather earrings can be another great addition to your handmade earrings. While learning how to make earrings with feathers, you will need feathers, crimp beads, and an eye pin. You'll also need a French hook and a pair of pliers.
Prepare your feathers by stripping and exposing the ends. This will make attaching them to the hooks and jump rings easier. You can use tweezers to remove some of the feather fibers.
To secure your feathers add one or two crimp beads, but do not tighten them.
Insert an eye pin through the beads on your feathers.
Use a crimp plier to squeeze the crimp bead until it doesn't close anymore. Ensure that the bead is tight enough to hold the eye pin and the feather together.
Attach a French hook to the eye pin, and your earring is complete. Repeat the same process to craft another earring and complete the pair.
Making Quilling Earrings
Quilling is an art form where you coil the paper and form these coils into different designs. It is one of the easiest ways of creating an earring design.
When you learn how to make earrings using quilling, you will need quilling strips and a quilling needle. You'll also need glue, paint, beads, and French hooks.
With the help of glue, attach five quilling paper strips together and let them dry.
Using a quilling needle, start coiling your paper. Wrap the paper around the needle over and over again to form a tight coil.
Once you have formed a coil, you now need to push the center of the coil outwards to form a dome. You can use a quilling mold to shape your coil into a dome structure. Make at least 6 dome structures for a pair of earrings.
You can also decorate your quilling designs by adding puffy or acrylic paint over them. By attaching tiny beads to the top of your paper coils, you can make them look more attractive.
After these are ready, you can attach 3 dome structures together with the help of super glue. Make sure that you let them dry out before adding your hooks.
When you are satisfied with your design, you can add a French hook to the top loop of the bead. If you haven't attached a bead, you can simply glue the hook to the back of your quilling design.
Repeat the same process to craft another earring and complete the pair.
Takeaway
Learning how to make earrings can be a great DIY project to customize your jewellery according to your style and personality. If you want to learn more about jewellery-making techniques, you can take a 1:1 lesson from an online tutor.
An experienced jewelry maker will teach you the basic techniques required while learning how to make earrings. They'll also let you in on tips and tricks you can use to kick up your creativity. You will also meet other jewelry enthusiasts and become a part of the community.
Lrnkey, an online tutoring platform, offers online tutorials for beginners and advanced jewelry enthusiasts. These one-on-one lessons hosted by expert tutors help you learn everything about making earrings, necklaces, and other jewelry pieces.
While making your earrings, you might need a little inspiration for the design. You can scroll social media websites such as Pinterest and Instagram and connect with DIY enthusiasts from all around the world. When you learn how to make earrings, you can take inspiration from them and tweak your design.
FAQ
How do you make homemade earrings?
To make homemade earrings make sure you have your jewelry-making supplies ready like hooks, clamps, pliers, and beads. Next plan how you want your earring to look and assemble it starting with attaching beads to an earring hook and then clamping it to make it stay.
How do you make your own earrings for beginners?
To make your own earrings for beginners get some earring hooks or hoops, beads or decorations depending on how you'd like your earrings to look, and other jewelry-making supplies. Attach the decorations or beads to your earring hooks or hand them from the hoops. Make sure to use clasps so the decorations don't fall off when you wear the earrings.
What materials do you need to make your own earrings?
We recommend the following materials if you want to make your own earrings:
Earring hooks or hoops
Pliers
Scissors
Clasps
Beads or charms
Wire or thin string
How do you make earrings out of anything?
To make earrings out of anything get some earring hooks and some wire. Then you can create a hole in any decoration you want your earrings to be made of and attach it firmly to the bottom of the earring hook.
How do you make hook earrings?
To make hook earrings get some earring hooks and beads or charms that you'd like to have as the decoration part of the earring. Attach the charm or beads to the earring hook using wire or string clasping the knot at the end to make sure the decoration stays on the jewelry.