Cotton yarn is a natural plant-based thread and one of the oldest textiles known to man. It is a prevalent choice in the knitting industry. This is due to the yarn being softer and more breathable than wool.
There are plenty of pros related to knitting with cotton. But there are also some cons you should be aware of. It's essential to know how cotton thread feels and looks before you decide to knit with it. When you understand the benefits and pitfalls of knitting with cotton, you'll have the tools to create soft, cool, and comfortable knits.
Either wool, cotton, or cotton/wool blends can be used for knitting fabrics. However, all three yarns hold different properties. And each should generally not be used as an alternative for the others. That said, you should only try cotton yarn with your knit when you're aware of the techniques associated with this thread.
This article will carry out a thorough analysis of the pros and cons of knitting with cotton. We'll discuss why it might be beneficial to incorporate cotton into your pattern. And we'll also look at the types of knitting projects most suited to the use of cotton. You can also learn crochet and develop your way of thinking and creativity.
What are the Pros and Cons of Knitting with Cotton?
Next we'll review the pros and cons of knitting with cotton so you can decide what type of material will work best for your knitting project. And let us remind you that knitting is one of the most creative skills.
The Pros of Knitting with Cotton Yarn
Cotton yarn has been used for centuries to make clothes. This cellulose fibre is perfect for directing heat away from your body, thus keeping you cooler. The following are some of the pros of knitting with cotton yarn:
Cotton yarn has been used for centuries to make clothes. And if you use your creativity it will be one of the high-income skills. This cellulose fiber is perfect for directing heat away from your body, thus keeping you cooler. The following are some of the pros of knitting with cotton yarn:
Cotton yarn is much more breathable and comfortable to wear.
The inelasticity of cotton yarn makes it an excellent choice for the classic drape effect. It settles naturally into a relaxed position, making it perfect for scarves, bags, or draped garments.
It gives a great stitch definition to your woven cloth. Cotton allows every little detail of your knitted stitches to stand out beautifully.
The cotton yarn makes a robust and natural fabric that can easily be washed and dried in the machine. In fact, it gets softer with every wash.
This yarn makes an excellent water absorbent fabric. As a result, you could easily dye this fabric in a wide variety of colours, and it would hold the die well.
It is rugged and durable yet comfortable to wear. The cotton yarn fibres do not break and tangle easily and can be used to knit heavy-duty projects.
Cotton yarn is less expensive as compared to wool. However, the price slightly increases when you go for better quality and processed cotton.
It is a plant-based yarn and is best for vegan people. Since most vegans do not prefer knitting with wool, as it is animal-based, cotton is the perfect choice for them.
Find a tutor for this topic
The Cons of Knitting with Cotton
Knitting with cotton might not always be the best option. There are a few projects that may not work with cotton yarn. The following list represents the primary cons of knitting with cotton yarn:
Pure cotton yarn is a natural fibre and, therefore, easy to crease and wrinkle. You need to take extra care of your fabric to keep it perfectly sheen.
Cotton yarns can be challenging to knit with. These yarns are slippery, and using a metal needle might not be the best option.
These yarns don't have much elasticity making them even more challenging to weave. You might feel some strain on your hands while keeping an even tension during the knitting process.
Cotton yarns are known for absorbing water and holding it well. However, this property can lead to stretching and sagging of the fabric when wet.
These yarns are unable to hold dark blue, red, and black colours well. This might lead to paint bleeding and can destroy the whole knitted garment.
Cotton plants are usually grown with many pesticides and fertilizers, making them harmful to the environment.
Organic cotton yarn is more expensive and challenging to get as compared to conventional cotton.
Knitting with Cotton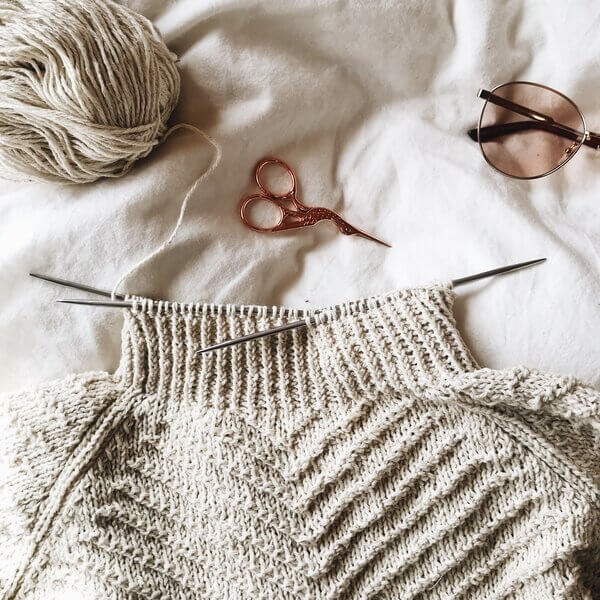 Cotton is a cooler fabric and is more prevalent in regions closer to the equator. Even though wool and cotton are natural, biodegradable fabrics, cotton fibre has more tensile strength than wool.
However, knitting with cotton yarn is not as easy as it seems. Cotton is a naturally curly fibre, and, as you knit, it tends to straighten out. This makes the thread stretch under its own weight. And it could lead to the sagging of the knitted cotton fabric.
Most people prefer using smaller needles to get a firm grasp while knitting with cotton yarn. This way, your knit will be denser, thus reducing the tendency for the garment to stretch.
When knitting your creation with cotton, you should be mindful of how much yarn you'll need to complete each section. It's best to start with a new ball of yarn at the edge of your knit rather than in the middle. The cotton yarn is somewhat bulky, and beginning in the middle might weigh your garment down.
Additionally, most cotton yarns are slippery, making knitting with metal needles quite the challenge. Instead, you should choose wooden or bamboo needles when knitting with cotton. These would help generate more friction between the cotton and needles for added control.
With the help of our Lrnkey expert guides, you can get more information and in-depth knowledge about knitting with cotton yarn.
The Best Projects for Knitting with Cotton Yarn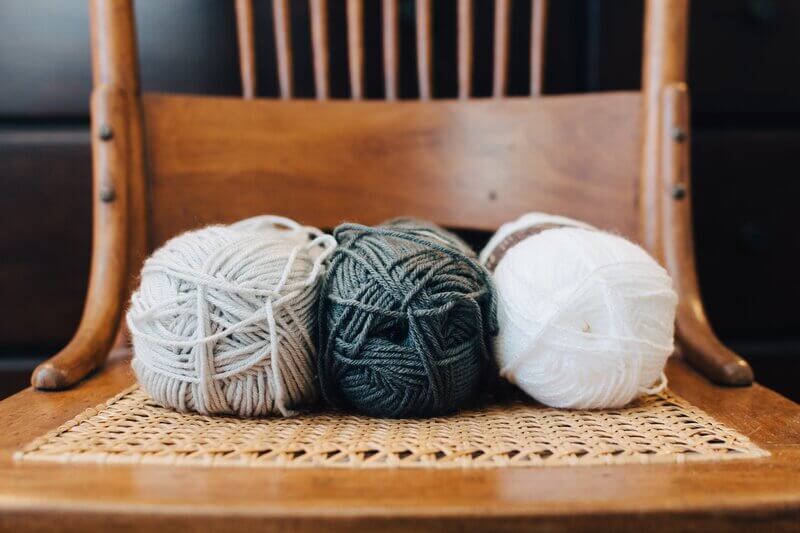 Knitting with cotton can seem a little tricky and time-consuming. However, with a few tricks up your sleeve, you can get better at it each time. There are a few projects where knitting with cotton yarn would give out the best results.
Baby Items
Stuffed Toys
Market or Sling Bags
Washcloths and Towels
Warm Weather Clothing
Shiny Fabric Clothing
Baby Items
Cotton yarns can absorb water, are more durable than other yarns, and can be machine-washed. This makes it perfect for knitting baby items like hats, clothing, blankets, or boots.
Stuffed Toys
Most people prefer knitting stuffed toys with cotton yarn rather than acrylic or woollen yarn. This is usually because the thread is very unlikely to cause any allergic reaction in children. Toys knitted with cotton yarn can easily be sanitized, washed, and dried in a machine.
Market or Sling Bags
Cotton yarn is a pretty solid and durable fibre. It can be used to knit fancy sling bags and sturdy and long-lasting market bags to carry household things around.
Washcloths and Towels
Cotton yarns are absorbent in nature and can soak up a lot of water quickly. You can knit towels and washcloths with this soft yarn. If you want a slightly rough surface on your cloth, you should incorporate a textured pattern.
Warm Weather Clothing
The cotton yarn makes a lightweight, breathable garment that pulls heat away from your skin. They are excellent for making garments worn in hot weather, like T-shirts, light shawls, or caps.
Shiny Fabric Clothing
Although conventional cotton yarn gives a neutral appearance to the fabric, mercerized cotton yarn can make shiny clothing. This is a processed form of cotton, which provides a natural lustre to your apparel.
Knitting with Cotton Blends
100% pure cotton feels soft and comfortable to wear. However, knitting with pure cotton is not always the best option. Several cotton blends are just as comfortable as a cotton garment and would give some extra benefits.
A cotton/wool blend is one of the most popular yarns. It gives the cooling effect of cotton, along with the memory of wool. Cotton is much more durable and robust. When blended with wool, it provides much-needed warmth and shape to the fabric. A cotton-wool blend yarn is much easier to knit as compared to pure cotton yarn.
A cotton-silk blend yarn gives a shiny, lustrous look to your garment. It also makes your fabric much more resistant and can endure years of wear and tear. Since both cotton and silk are not too elastic, it would be perfect for a draping effect on your dress.
You can learn more about different cotton blends and how they can be used in a project with the help of expert tutors on Lrnkey.
Conclusion on the Pros and Cons of Knitting with Cotton
When it comes to pure cotton, people have different opinions and views. From my perspective, it all boils down to the look, feel, and type of project you are taking up. Knitting with cotton might feel stressful and challenging at the beginning.
But once you get the hang of it, you should be making good use of the pure cotton yarn. And with that, you're sure to create some amazingly soft and detailed knits.